Elvira "Doc" Consuelo Riesgo de Pieri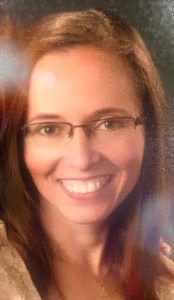 Elvira "Doc" Consuelo Riesgo de Pieri died Wednesday, May 10, 2017 peacefully at home in The Woodlands after a yearlong battle with cancer. She was born December 22, 1969 in Houston and was 47 years old.
Children were a central focus for Doc, but none more than her daughter Genesis. Elvira relished her job as a mother and did all she could to encourage and support her daughter as she pursued varied interests. Watching her daughter mature and grow over the last year was a source of immense pride and satisfaction. Genesis was her hope as she fought her battle with cancer. Doc's life was devoted to mentoring youth. Her devotion took several forms. Doc taught AP Chemistry, PreAP Chemistry and Applied Chemistry during her time at The Woodlands High School beginning in 1998 and was much loved by her co-workers and students. Her impact on the lives of students is immeasurable, but is evident by the outpouring of support from former students during her illness. She was buoyed by their visits, hearing about their successes and praying with many.
Outside of school, Elvira worked tirelessly as a CASA volunteer, advocating for youth as they navigated the court system. Elvira was physically tiny, but a mighty human with strength and passion. She was an Edge core member at St. Anthony, where she taught Christian education weekly for students in 5th -10th grade, and was an embodiment of her faith in the salvation offered by her Lord and Savior Jesus Christ, and faithful member of S.O.L.T. ministries as a disciple of Jesus and Mary.
Elvira's faith in the Lord sustained her, not only during her fight with cancer but also throughout her entire life. The Christian foundation instilled by her parents was very strong and her faith guided her life. Even in her final days, you could see from her lips praises to the Lord and love to her caregivers, families and friends. Elvira saw God's hand in everything and was willing to share the Good News with everyone she met.
Elvira was the daughter of Roberto and Gloria Riesgo, and the granddaughter of Delia Rodriguez, Eduardo Haddock, Enery Lacourt and Maximino Riesgo. Elvira is survived by her daughter Genesis Pieri. She is also survived by her brother, Roberto Rene Riesgo Rodriguez (Carlota) and sister Gloria E. Costa-Riesgo (Francisco) And her former husband, Carmelo Pieri, the father of their beloved daughter.
One of the many ways she showed her love was leaving sweet sticky notes in various places around the house for her mother to find. Whenever Elvira wanted her mother to remember a point she was making, she'd make her promise "criss-cross" which never failed to make her mother laugh AND remember.
In lieu of flowers, the family would appreciate donations to Doc's Garden, a project at The Woodlands High School, thru a gofundme.com account.
Elvira is also survived by her nieces Isabel Riesgo Santos, Mirelia Liz Riesgo Santos, Alines Riesgo Santo, Mariavictoria "Tori" Costa-Riesgo, Ariella Pieri, Stavia Pieri Pranice Pieri , nephew Gabriel G. Costa-Riesgo, and cousins Eduardo Lebron Haddock, Carmelo Ruiz Haddock, Delia E. Clemente Haddock, A. Tana Clemente Haddock, Jose R. Clemente Haddock, Pedro Clemente Haddock and Dolores Ramos Poques. Elvira's beloved pets were Tigger, Fluffy, Ginger and Mercy.
Special thanks to all the volunteers and friends that supported Elvira following her diagnosis. She was very grateful to all. Special thanks to Fr. Kailas, Fr. Pat, and Fr. Alphonsus. Special thanks to Fr. Sebastine and all parishioners for their many prayers.
Pallbearers will be Carmelo Pieri, Franciso Costa, Calvin Alexander, Jose R. Clemente, Carmelo Ruiz and Pablo Siboldi.
Visitation will be Saturday, May 20 from 11:30-1, followed by a 1:00 p.m. funeral at Saint Simon and Jude Catholic Church in The Woodlands. Reception will follow from 2-4 p.m. at the church. A graveside service will be held May 26 at 3:30 p.m. at Forest Park Cemetery in Shenandoah