Elva Leonila Ramirez Cortez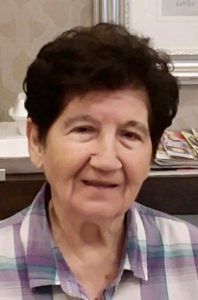 Elva Leonila Ramirez Cortez, of Webster, Texas passed away on April 30th, 2021. Elva was born in Mexicali, Mexico, September 6th, 1939 to proud parents, José Ramirez and Maria del Refugio Becerra Ramirez.
Elva leaves behind her son Pedro Guerrero of Mexicali, Mexico; daughter Irma Ramirez of San Leandro, California and Iracema Cortez of Friendswood, Texas; along with seven grandchildren and five great grandchildren.
She is preceded in death by her parents, José and Maria del Refugio Ramirez; her husband, Joe Cortez; son, José de Jesus Ramirez; brother, José Gabriel Ramirez and sister, Maria de Jesus Ramirez. Her ashes will be interred Saturday, June 5th at noon at Hayes Grace Memorial Park in Hitchcock, Texas. The graveside service will be officiated by Pastor Joe Schwenk.
Elva is remembered by those who knew and loved her as headstrong and not afraid of a fight. They knew her as someone who did what she wanted to do and only what she wanted to do!
Since her teenage years she was determined not to live on the family farm. As a young woman she worked in Tijuana, Mexico as a receptionist and nursing assistant. In her late twenties she immigrated to Los Angeles, California where she met her husband of nearly fifty years, Joe Cortez.
In 1980 they moved to his home country of Brazil for two years. While there she fulfilled a life-long dream of becoming a certified hairdresser. In 1982 they settled in Santa Fe, TX. Here they lived a  majority of their lives. At the age of 50 she learned how to drive.  Shortly thereafter she dedicated herself to continuing her education. She was a faithful student at College of the Mainland's continuing education program.  Elva became fluent in speaking English as well as proficient in reading and writing in English.
After a season of focused studies she became an American citizen. In the late 1990s and early 2000s she enjoyed working in the linens department at Burlington Coat Factory in Webster until she retired around 2005.
During her retirement years, she always had a beloved canine companion at her side which she loved to spoil and include in every aspect of her life.
Her children and grandchildren share joyful memories of her delicious cooking, birthday cards, spontaneous songs, compulsive cleaning and funny nicknames for everyone. She will be greatly missed by all who knew and loved her.