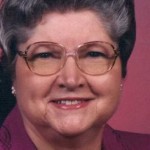 Elsie Jane Olsen, 85, of League City, passed away November 15, 2014. She was born May 9, 1929 in Rensselaer, Indiana. She was a former resident of 2306 Morton Ave., Elkhart, Ind until she and her husband Donald Olsen, Sr., retired to Hackensack, Minnesota. She was a member of Union Congregational Church in Hackensack, Minn. She was preceded in death by her husband and by a granddaughter, Karen Olsen.
She is survived by her sons Donald Olsen, Jr. and his wife Dolly, and Richard Olsen; grandchildren, Paula Price, Shawn Price and Kevin Olsen; seven great grandchildren and five great great grandchildren.
A visitation will be held Saturday, November 21, 2014 from 1:00 to 4:00 pm with funeral services at 4:00 pm at Crowder Funeral Home Chapel, Dickinson, Texas.
In lieu of flowers donations may be made to the American Diabetes Foundation.