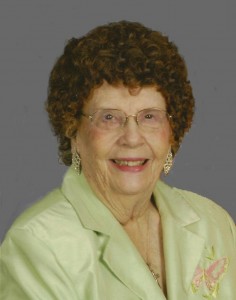 Elnora Marie Boyd, 82, beloved wife, mother and grandmother passed away into God's hands on March 11, 2015. Elnora was born on May 31, 1932 in Galveston, Texas at Saint Mary's Infirmary to Francis L. and Eleanora (Huebner) Wilson.
Elnora married Thomas E. Boyd, Sr. on November 15, 1953 and they shared 61 years together.
In addition to her husband, Tom, Elnora is survived by sons, Thomas E. Boyd Jr., and Ronny (Laura) Boyd, grandchildren Melissa Boyd, Bryan and Kathryn Boyd, great-granddaughter Taya Boyd. She is also survived by her brother Frank L. (Helen) Wilson and their family of Redding, California.
Elnora attended Saint Patrick's Elementary School and Ursuline Academy class of '51, where she was a member of the Drum and Bugle Corps. After high school, Elnora attended business school and worked at a local bank as well as one in Redding, California. While she enjoyed being in California with her brother, she soon returned to the island where she married Tom and they started their life together. As the family began to grow they relocated to La Marque (now Texas City) where they have remained for nearly 60 years. She was a member of Queen of Peace Catholic Church.
Elnora cherished her roles as wife, mother and homemaker. She loved her family dearly. Mother enjoyed meeting and making new friends; she could talk to anyone and usually did. No one was ever a stranger to her.
The family would like to thank those who showed our mother friendship, love and compassion through the years, especially during her recent stay at UTMB and Regent Care Center of League City.
Visitation will be on Sunday, March 15, 2015 from 5:00pm ~ 7:00pm with a Vigil at 6:00pm. A Funeral Mass will be at 10:00am on Monday, March 16, 2015 at Queen of Peace Catholic Church in La Marque with Father Chacko Puthumayil officiating. Burial will follow at Mt. Olivet Catholic Cemetery in Dickinson, Texas. In lieu of flowers donations can be made to the American Heart Association, Queen of Peace Catholic Church or a charity of your choice.