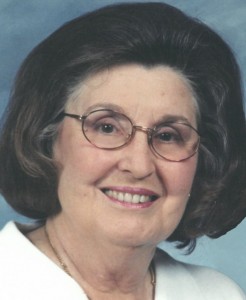 Ellen Jane Witko Sokol, 87, of La Marque, Texas, passed away Saturday, February 27, 2016 at Brodie Ranch Nursing Home in Austin, Texas. Her father emigrated from Czechoslovakia to the small farming town of Streator, Illinois, 90 miles Southwest of Chicago. Her mother was a Streator resident. It was there Ellen was born February 6, 1929. She graduated from Streator High School in 1946. She and Albert "Babe" Sokol were married in Streator June 6, 1950. They honeymooned at Niagra Falls, New York and St. Augustine, Florida. Ellen was the mother of four children, and a housewife of the 1950's who liked to keep her home immaculate. She loved flowers and her favorite color was pink. She excelled at sewing and drawing. She sewed precious clothes for her daughter's dolls. She enjoyed cashiering at La Marque High School cafeteria, and at various movie theatres around Galveston County. She was a president and faithful member of the Queen of Peace Ladies Guild. She received a lot of joy from her black toy poodle, Friday. In Ellen's later years, she enjoyed traveling by herself and with her husband. One of their most exciting and memorable trips was to Israel and Rome, Italy to visit the Vatican. She looked forward to trips to California to visit her children and see her first grandchild, Faye Ellen of Scott Sokol and Deona Sokol. In the last 10 years of her life, she suffered a stroke, paralyzing her entire right side and leaving her unable to speak. She was happy to be in the presence of her family and caregivers, look at photos of friends and family, and watch her favorite shows on TV. Ellen was adamant about checking the obituaries every morning at breakfast, and was teased frequently about this ritual. Ellen now rests with her husband, Babe Sokol. He fondly called her "Elly." They laughed and cried together, and were always at each other's side. So in life, so in death. Bye, bye Mama.
Ellen was preceded in death by her husband of 66 years, Albert Andrew "Babe" Sokol, only nine days before; her parents Andrew Witko and Margaret Wantland Witko; sister Doreen Bullock; brothers Burrel, James, and John Witko. She is survived by her sister, Cyndy Sabol, and niece, Laura Eggleston, both of Streator, IL; daughter, Sally Ann Cunningham of Santa Barbara, CA; sons Scott Allen Sokol of Austin, TX; Shawn Albert Sokol of Suffolk, VA, and Samuel Andrew Sokol of La Marque, TX; daughter-in-law, Deona Southall Sokol, and grandchildren, Faye Ellen and Winston Albert Sokol of Austin, TX.
Ellen's Family will receive visitors 5:00 pm – 8:00 pm, Wednesday, March 2, 2016, with a Vigil at 7:00 pm at James Crowder Funeral Home in La Marque.
The funeral service will be at 1:00 pm, Thursday, March 3, at Queen of Peace Catholic Church in LaMarque with a reception following at the church hall. Entombment will follow at Galveston Memorial Park in Hitchcock, Texas. Pallbearers will be Scott, Shawn, Samuel, and Winston Sokol, Al Chandler, Lynn Laycock, and George Billota. Honorary Pallbearer, Dan Davenport.
Ellen's family wishes to express heartfelt appreciation to all caregivers who cared compassionately for their parents.
Memorials may be sent in memory of Ellen J. Sokol to the Ladies Guild, Queen of Peace Church, 1200 Laurel St, La Marque, TX 77568.