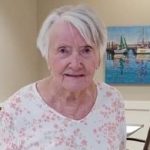 On Wednesday, May 17, 2023, Ellawese Thomas Ross, the mother of 2 children, passed away at the age of 94.
Ellawese was born on April 11, 1929 to Leon and Annie Mae (Post) Thomas
in Mound, Louisiana.
After her father passed in 1937, her mother moved Ellawese and her two brothers to Houston where her mother performed maritime work to assist in the WWII war effort.
Ellawese married Leroy C Ross in 1961. His job took them to many places around the world including England, Tripoli, Libya, Dubai and Indonesia.  Ellawese became the family's tour guide while they lived abroad, planning several trips to enjoy their temporary homes and explore nearby locations. They came back to the states in 1984, living in California, Arkansas and finally settling in Shreveport to retire. Ellawese lived in Shreveport until she moved to Texas to be close to her children.
Ellawese enjoyed playing golf, walks in the morning and playing card games.