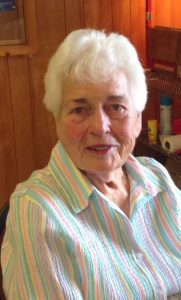 Ellarein "Rene" Fourcade, 83, passed away December 14, 2016 in Santa Fe, Texas. She was born June 20, 1933 in Weesatche, Texas to parents Reinhold and Alma Gaubatz. Rene and was a registered nurse having worked for Mainland Center Hospital for twenty- nine years and also worked for AMED Hospice in Texas City. She was a very active and longtime member of St. John's Lutheran Church in Santa Fe, a member of the Eagles Lodge #3789, a member of the Lions Club of Santa Fe, an active member of the Santa Fe Senior Center, and an active member of the American Nurses Association.
She was preceded in death by her husband Peter Joseph Foucade, Sr., son, Phillip Thomas Fourcade, and brother, Gerald Gaubatz.
She is survived by two daughters, Elizabeth Nolen (husband Phillip), and Anna M. Cook (husband David); two sons, Peter J. Fourcade Jr., and Paul V. Fourcade (wife, Dale); two sisters, Melvalene Summers, and Faye Morgan (husband Bill); and Harvey D. Gaubatz (wife Dani); twelve grandchildren, and nine great-grandchildren.
Visitation will be held Friday, December 16, 2016 from 6 p.m.- 8 p.m. at Crowder Funeral Home in Dickinson, Texas. Funeral services will be held at 11:00 a.m. Saturday, December 17, 2016 at Crowder Funeral Home Chapel in Dickinson. Interment will follow at Mt. Olivet Catholic Cemetery. A reception will be held following the burial at St. John's Lutheran Church.
Serving as pallbearers are Matthew Fourcade, Asa Fourcade, Erik Reed, Ash Cook, Andrew Cook, and Allen Cook. Honorary pallbearer will be Brandon Lee Reed.