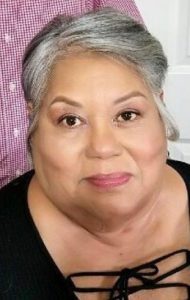 Ella Tristan Escalona, 73 passed away March 10, 2018 with her family by her side.  Mrs. Escalona was born to Patricio and Catarina Tristan on February 11, 1945 in Ganado, TX.  Ella was raised in Victoria, TX, where she met and married the love of her life, Ernest. They moved to the Houston area and have resided in the community for the past 49 years.  She is a member at St Helen Catholic Church and retired from Sam's Club after over 25 years of service.  She was kind and nurturing, whose true vocation was being a wife and mother.
Mrs Escalona is preceded in death by her parents Patricio and Catarina Tristan; daughter Kathy Escalona Gage; sisters Lucy Vasquez and Virgina Vasquez; brothers Mike Tristan Sr. and Vincent Tristan Sr.
Ella is survived and will be sadly missed by her loving husband of 52 years Ernest L. Escalona Sr.; daughters Evelyn, Jennifer, Adrian and Ella-Ann Escalona; son Ernest L. Escalona Jr. and wife Alicia; sister-in-law Julia Tristan; grandchildren Marissa, Sarah, Ernest III, Felix, Ralphael, Kaitlyn, Emily, Tristan and Angelita; numerous nieces, nephews and extended family.
Memorial visitation will be held Thursday, March 15, 2018 from 6-8pm at Crowder Funeral Home in Pearland.  Mass will begin 11am Friday, March 16, 2018 at St. Helen Catholic Church in Pearland.