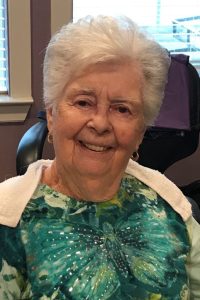 Elizabeth Mary Barbee, of League City, Texas, passed away peacefully on Sunday, July 23, 2023, at the age of 92. She was born in New York City, New York on July 11, 1931. At a very young age, she relocated to Arizona. It was here she met the love of her life, Jack Barbee, at the Granite Dells swimming lake in Prescott, Arizona. She attended college at Saint Mary's Catholic University in Los Angelos, California and obtained her teaching degree. Elizabeth and Jack married and started out their lives together in Prescott Arizona, moving to Tucson AZ, Ajo AZ, Jamaica, Benton AR, and then residing in Portland Texas for about 30 years. Jack and Betty retired to the town of Lakeland, Florida. After Jack's death in 2002, Elizabeth returned to Texas in 2013 to live near her daughter and son in League City Texas.
Elizabeth taught elementary school in Ingleside, Gregory, and Aransas Pass, Texas before retiring. She was a devoted Catholic and considered becoming a nun before she met her husband, Jack. Together they raised 4 children. She loved family life, travelling and reading. Elizabeth and Jack especially loved their time living in Jamaica, enjoying the beautiful beaches, Jamaican people and their culture.
Elizabeth is preceded in death by her husband Jack Barbee.
She is survived by her four children Donney Barbee Speck (Greg), Stephen Barbee (Susan) and 2 grandsons, Derek and Grant and great grandson Marcus; Elizabeth Barbee Coleman (Willis) and 2 grandsons, Willis and Wyatt; James (Jimmy) Barbee (Debbie) and 2 granddaughters, Vanessa and Sara, and grandson, Jack.
Elizabeth will be reunited with her loving husband, Jack, and laid to rest together in Prescott, Arizona at the National Veterans Cemetery.