Elizabeth Lorraine Baldwin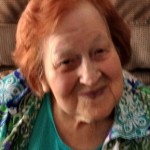 Remembering the life of……
Elizabeth Lorraine Baldwin, was born November 8, 1924 in Clitherall, MN., one of 11 children to John R. and Mattie Mae (Wise) Baldwin Jr. She graduated from Battle Lake High School on the 29th of May, 1942.
On November 7, 1943, she married Gordon L. Island in Battle Lake, MN at the Lutheran Parsonage. The couple are the proud parents of six children, Jane, Gordon Jr., Deborah, Leslie Paul, Anita and Mary.
She is a member of the Community of Christ Church at Clitherall. She is a life member of the Ladies Auxiliary of the V.F.W.
Her hobbies include dancing, reading, vegetable gardening and grandchildren.
On Monday, September 8, 2014, she peacefully passed away at her home in Rockport, TX at the age of 89 years and 10 months.
Preceding her in death her parents, a daughter Deborah (Debi) in 2004; three sisters, Elise Opergard, Elenor Phelps, Edna Frane; six brothers, Virgil Frances, Selmer Eugene, Charles Wilmer, Erwin Russel, Lawerence LeRoy and Harold.
Her family includes her husband of 71 years, Gordon; two sons, Gordon Jr. (Judy) Island, of Rockport, TX and Leslie Paul Island of Howell, MI; three daughters, Jane (Morris Gwinn) of Boerne, TX, Anita (Richard) Ulatowski of Beeville, TX and Mary (Randy) Robinson of Howell, MI; thirteen grandchildren, Bradley, Matthew, Peter, Laura, Elizabeth, Roy Travis, Melissa, Nathan, Sarah, Joseph, Bettie, Jaime, Sheila; nineteen great grandchildren, Rowan, Conner, Caleb, Julia, Zackary, Chloe, Ethan, Joshua, Cameron, Spencer, Hunter, Natalie, Jenavieve, Jaclyn, Clark, Justin, Sheldon, Nevaeh and Elle; and survived by one brother Howard. Also, numerous nieces, nephews and extended family and friends.
Blessed be the memory of Elizabeth Island…..