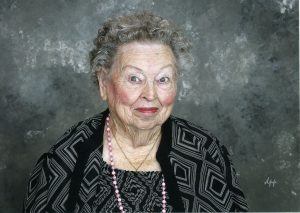 Elizabeth Ivy Lester,95 of Deer Park, Texas passed away on October 2, 2016.  "Libby" was born January 31, 1921 in Hondo, Texas to Ralph and Ivy King.  She was a member of First United Methodist Church in Deer Park where she was very active until her health prevented her from attending.  She and her husband, Clyde founded the Lester Lumber & Building, East End Tackle Shop and the Red Wing Boat Company and also belonged to the Boating Trade of Houston.
Elizabeth was preceded in death by her parents, her husband, Clyde Lester; and brother, Oliver King.
Survivors include her daughter, Barbara Stringfield & husband, Roy: two sons, Ralph Lester & wife Leslie and Fred Lester & wife, Mary Jane; and brother, Joe King & wife, Adrietta.  Also surviving are four grandchildren and four great-grandchildren.
Funeral services will be held on Thursday, October 6 2016 at 11 A.M. in the Chapel of Crowder Funeral Home in Webster, Texas.  A visitation will be on Wednesday evening, October 5 from 6 to 9 P.M.  Interment will follow funeral services at Forest Park Lawndale in Houston, Tx.