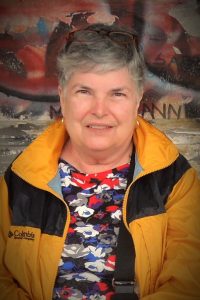 Elizabeth Fey Jordan, age 74, passed away peacefully at her home on Tuesday, March 12, 2019, surrounded by family and friends, after a prolonged battle with lymphoma.
She was born in September 1944 in Houston, Texas, to Beatrice Ellen (McNicoll) and Wade Hagen DeLaune. She grew up in Houston and graduated from Milby High School in 1963. She successfully graduated with a teaching certificate and bachelor's degree from Southwestern University in Georgetown, Texas, in 1966. She would later earn her Masters in Biology from University of Houston Clear Lake.
During college summer classes, Fey met the love of her life, John Craig Jordan. They married on Wednesday, December 28, 1968. Together, they raised three children, moving briefly as a family to Midland, Texas, and Irvine, California, before settling in Nassau Bay, Texas, in 1982.
Fey had a successful career pursuing science and helping others: after a brief stint as an elementary school teacher, she returned to the lab at Baylor College of Medicine where she researched pituitary hormones. In a career change following children, she worked 12 years as a reservations agent with Southwest Airlines, until retirement.
She was a longtime member at Webster Presbyterian Church where she played bells and actively supported women's groups and ministries. She enjoyed traveling with John, whether on airplanes with Southwest employee travel benefits, on cruises throughout the globe, or in their RV in New Mexico.
Fey is survived by her husband, John, and their three children and spouses: Sarah and Jace Frey of League City; David and Melanie Jordan of Portland, Oregon; Marshall and Michell Jordan of San Diego, California. Fey was a loving grandmother (Mee Maw) to her five surviving grandsons: Aaron Frey, Hagan Frey, Jack Frey, Nolan Jordan, Wesley Jordan. She is also survived by many loving caregivers, especially Maria Tena. Fey was preceded in death by her father in 1976 and her mother in 2001.
Visitation will be held Friday, March 15th from 6:00 to 8:00 PM at Crowder Funeral Home in Webster (111 E Medical Center Blvd, 77598). The following day, Saturday, March 16th, funeral services will be held at 4:00 PM at Webster Presbyterian Church (201 E NASA Pkwy, 77598).