Elizabeth Ann Keyes McClanahan
Elizabeth Ann Keyes McClanahan, 89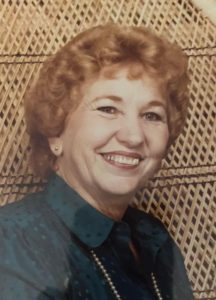 Elizabeth was born in Santa Rosa, Texas on April 14th, 1933 to Victor Smith Keyes and Mary Calthea Etter. She received her education in Santa Rosa. Soon after, she met Edd Lee McClanahan, the love of her life at the skating rink. Elizabeth married Edd on August 17th, 1951 at the age of 18, they were happily married for 71 incredible years until she passed on September 9th, 2022.
Elizabeth and her husband Edd traveled throughout the United States for his work. Elizabeth enjoyed her craft as a seamstress, and was incredibly talented. Elizabeth and Edd were blessed with five children, Leonard Ray McClanahan, Brenda Kay Byrd, Dennis Russ McClanahan, Larry Joe McClanahan, and Michael Allen McClanahan. Elizabeth was a loving wife, mother, grandmother "memaw", and friend. She was cherished by her parents and siblings.
She is preceded in death by her father, Victor Keyes, and mother, Mary Etter; Her brothers Eugene Keyes, Charles (Charlie) Keyes; Ed Keyes; Andy Keyes; Troy Keyes; Wayne Keyes; Kenneth Keyes; O.D. Keyes; and four sisters that passed at a young age. Also her son-in-law, Terry Michael Byrd.
She is also welcomed in Heaven by her son, Dennis Russ McClanahan (Rusty).
At the time of her death she was survived by her husband of 71 years, Edd McClanahan. He joined her only nine days later on September 18th, 2022.
She is survived by her sister Mary Ellen Clay and Kay Francis Printy, husband Richard Printy. Her children: Leonard McClanahan and wife Kathy; Brenda Byrd; Larry McClanahan and wife Angie, and Michael McClanahan and wife Elizabeth. Nine Grandchildren: Natasha Emerson and husband Rene; Amanda Byrd Peri; Shawn Byrd and wife Jennifer;  Melissa Chadwick and husband Michael; Brittany Dove and husband Dewayne; Patricia Matute; Thomas McClanahan and wife Hannah; Edd Lee McClanahan, and Tucker McClanahan. 18 great-grandchildren, and 2 great-great grandchildren. And many nieces and nephews.
Friends and family are invited to celebrate Elizabeth's life on September 24th, 2022, 1:00 PM at Crowder Funeral Home; 1645 E. Main, League City, TX 77573.