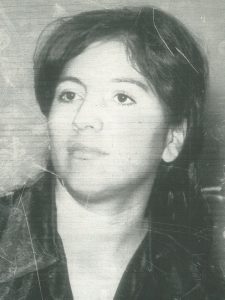 Elidia Ramirez Gamez, 77,  who resided in Houston, TX, but  lived the majority of her life in Brookside Village, Texas passed away with her family by her side on May 5, 2023. She was born in Villaldama Nuevo Leon, Mexico on March 24, 1946. She attended Templo Bethania Church.
She was loved by so many and will be dearly missed. She was known to say to all she loved " I love you all the way to the sky and around the world forever and ever".
She reunites with her Parents; Vicente and Santos Gloria Ramirez, in-laws, Thomas & Francisca Gamez, Her sons: Ramon Gamez, Sr., and Alexander Gamez, Sr.; Grandson Thomas Isaac Gamez, Brother In-law Frank Gamez, sisters: Gloria Marta Ramirez, Virginia Reyes and brother Roberto "Pudgy" Arizmendi.
Elidia leaves behind her husband of 61 years, David Pereida Gamez, Sr.; daughters: Angie Saldana, husband Pablo Saldana, Nancy D. Gonzales, husband Candelario Gonzales, Cindy Gamez Regalado, Betty Hernandez, Naomi Gamez, and Krystal Michelle Gamez-Torres, husband Jose Torres, Reyna Lily Gonzalez; sons: David P. Gamez, Jr. wife Cynthia Gamez, and Frank Gamez, Sr. wife Sonya Romero-Gamez; and Miguel Angel Munoz Jr., and sisters: Maria "Chari" Ramirez, Yolanda Ramirez, and Ida Ramirez; as well as numerous grandchildren, great grandchildren, and great great grandchildren.
There will be a visitation Tuesday, May 9, 2023 from 5 p.m. to 8 p.m. at Crowder Funeral Home in Pearland. Funeral service will begin at 11 a.m. on Wednesday, May 10, 2023 in the chapel of Crowder Funeral Home with Pastor Erasmo Callazo officiating. Burial to follow at South Park Cemetery in Pearland, Texas.
Pallbearers will be, Marc Villarreal, Ramon Gamez, Jr., Alexander Gamez, Jr., Jose Angel "Jojito" Torres Jr., David Vicente Duron, Sr., Henry "H.L" Ellis, Frank Gamez, Jr. and Miguel Angel "Mikito" Munoz, Jr.
Honorary pallbearers, Elidia Gamez sons, David P. Gamez, Jr. and Frank Gamez, Sr.