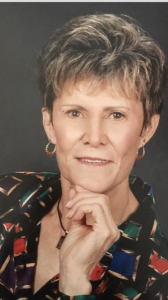 Eleanor F. Worley Doyle, 84, resident of Bacliff, Texas since 1959 passed away May 13, 2019. She was born September 10, 1934 in Augusta, Kansas to parents Lester Frank and Lorilla Fern Worley.
Her enjoyments in life were flower gardening, and spending time with family, especially her grandchildren. Family was her life. She loved traveling and eating out with her Lady friends and visiting the flower shop often.
She was preceded n death by her parents, and brother Frank Worley.
Eleanor is survived by her daughters, Rhonna Bumpas, Robin Nowlin and husband Mike; son, Daryl Pool and wife Jolene; sisters, Dorothy Johnstone and Ann Worley, and numerous grandchildren and great-grandchildren.
Visitation will be held Friday, May 17, 2019 at 2:00 p.m. with a Funeral Service beginning at 3:00 p.m. in the Chapel of Crowder Funeral Home in Dickinson, Texas. Interment will follow a Forest Park East Cemetery in Webster, Texas.