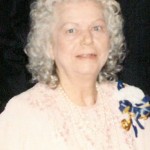 Effie Fautheree Donoho passed away gently into the loving arms of Jesus and Holy Mother Mary on Tuesday, May 27, 2014, at Oceanview Healthcare in Texas City.
Effie, age 95, was born on March 31, 1919 in Junction City, Arkansas. She was the youngest child of Mattie Berry Fautheree and Alexander Fautheree. On July 11, 1941, she and Roland Edward Donoho were married at St. Mary's Cathedral in Galveston, Texas. They moved to San Diego, California, in 1942 where Roland served in the Navy. They returned to Texas following his discharge in 1945 and resided in La Marque.
Effie dedicated her life to service to her church, Queen of Peace Catholic Church in La Marque, where she served as a sacristan from 1951 through 1963; raising her three children; and volunteering for community services.
She was a professed member of the Third Order Lay Carmelite Titus Brandsma Community, having been received into the order in 1988.
Her favorite accomplishments in her busy life included her service during WWII, working in the defense industry in San Deiego. There she attached sheets of metal or "skins" to B29 bombers.
Another of her favorite accomplishments was serving as one of the first women fully certified as police officers in La Marque. She was proud of her badge number:007.
She also was one of several parents in La Marque who was instrumental in getting legislation passed providing for special education classes for mentally challenged children in Texas. One of the pilot programs was in La Marque Independent School District.
She was a devoted mother who volunteered as a leader for Brownies, Girl Scouts, Cub Scouts, and 4-H. She also served as room mother and was active in the PTA.
Effie is preceded in death by her husband, Roland, son Albert Donoho, parents Alex and Mattie Fautheree, her brothers Bonnie Fautheree and Curtis Fatheree and sister Ethel Fautheree Jones.
Effie is survived by her daughter Donna Donoho Berend and son Patrick Donoho; grandson John Berend and wife Mari, and great grandchildren Morgan Horner, Austin Horner and Shawn Horner.
Visitation and Vigil will be held on Thursday, May 29, 2014 from 6:00pm – 7:00pm at Crowder Funeral Home in La Marque. Funeral services will be held on Friday, May 30, 2014 at 10:00am at St. Mary of the Miraculous Medal Catholic Church in Texas City. Burial will follow at Mount Olivet Catholic Cemetery in Dickinson.
Memorial donations may be made to St. Mary of the Miraculous Medal Catholic Community in Texas City or the charity of your choice.