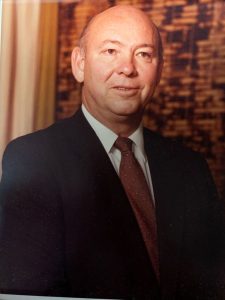 Edwin R. Spicer, 89, passed away in his home surrounded by his loved ones on Saturday, March 25, 2023.  Edwin (Ed) was born June 30, 1933 to Addie and Charles Spicer in Harlan, Kentucky.  He was involved with sports and helping around his family's farm as he grew up.   He graduated from Gettysburg College in Gettysburg, Pennsylvania. Upon graduation Ed proudly served his country in the U. S. Air Force, where he met his wife Naomi.
After resigning as a Captain in the military, Edwin supported his family as an Insurance/Financial Advisor for many years.  He was an outdoorsman, enjoying camping, hunting and saltwater fishing. He also loved to travel the country in his RV.  Edwin was a talented metal sculpturer, wood worker, wood turner, and a member of the Gulf Coast Woodturners Association.
Edwin was preceded in death by his parents, son Glenn Spicer, sister Sara Lezek, brothers Neal, Phillip, Hugh, Charles, John, and William.
He leaves behind his beloved wife of 67 years Naomi Spicer; daughters Kimberly Lewis, and Delia Spicer; brother, Oscar Spicer; daughter-in-law Donna Haag Spicer; five grandchildren, six great-grandchildren; and numerous other family and friends.
There will be a celebration of life for Edwin Spicer on Saturday, April 8, 2023, 11:00 am – 1:00 pm, with a service at 12:00 pm, at Crowder Funeral Home Chapel, in Dickinson, Texas.
In lieu of flowers the family requests donations be made to the charity of your choice.