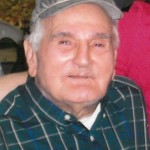 The Lord giveth and the Lord taketh away….On Monday, February 10, 2014 after 96 years, the Lord called home, our beloved father, grandfather, great grandfather and great-great grandfather, Edward Lee Stricklind.
Those who knew him remember him as a generous and loving man to all he called family and friends. He was born June 11, 1917 to Willis and Alice Stricklind in DeQueen, Arkansas.
Edward served in the US Navy during WW II. He was a farmer and worked in construction.
He is preceded in death by his wife Winnie Lee Stricklind, his mother and father, three brothers, five sisters and one granddaughter Deborah.
He is survived by his four daughters and sons-in-law; Frances and Don Manning of Porter Springs, TX, Della and David Zack of Texas City, TX, Linda and Colin Campbell of Prescott, AZ and Beverly Stricklind of Prescott, AZ; two sons and daughters-in-law; Clarance and Vera Stricklind of Corringan, TX and Randy and Pattie Stricklind of Hitchcock, TX; sister Willie Bearden of Marietta, OK; eighteen grandchildren and 53 great grandchildren and 28 great-great grandchildren.
A visitation will be Thursday, February 13, 2014 from 6:00pm – 8:00pm at the James Crowder Funeral Home in La Marque. Services will be Friday, February 14, 2014 at 10:30am at the funeral home with Pastor John Elliott officiating. Burial will follow at Grace Memorial Park in Hitchcock, Texas.
Pallbearers are grandson's Jerry Don Manning, Jr., Dana Marks, Damon Marks, Ryan Stricklind, Randy Stricklind II, and Edward Stricklind, Jr. and Honorary Pallbearer Christopher Campbell.