Edward Kenneth Trevino – "Fast Eddie" BOI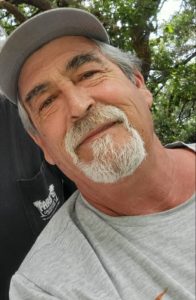 Edward Kenneth Trevino – "Fast Eddie" BOI
Edward Kenneth Trevino, 61 of Galveston, passed away Thursday, August 31, 2023 at UTMB Hospital in Galveston.
Eddie was born October 1, 1961 at St Mary's Hospital. Eddie was a devoted father and husband. A graduate of Ball High School class of 1980. He was a lifelong carpenter and worked for the Rekoff Company for 27 years. Greg Rekoff was instrumental in his strong work ethic and commitment to quality workmanship. He worked on many notable projects including the US National Bank Building, Moody Mansion, The Grand 1894 Opera House and the original Hometown Bank on 45th and Seawall to name a few. He was a master carpenter at Malin Ship Repair for 12 years and most recently has worked on the Valaris oil rigs at Gulf Copper.
Eddie enjoyed fast cars, motorcycles and sitting on his front porch entertaining family and friends. He was a member of The Amigos Motorcycle Club for 15 years and at one time he served as president. He rode his Harley to many bike rallies including The Sturgis National Run Rapid City and the Red River Run in Tao's New Mexico.
Eddie was preceded in death by his parents Raul and Hilda Trevino, brother Donald O. Trevino and sister-in-law Karyn L. Trevino. He is survived by his wife Pamela and stepson Austin, brothers Raul "Bobby" Trevino Jr. and Gilbert Trevino. He was a proud uncle to his niece Apryl Kilgo, nephews Aaron Trevino, Matt Trevino, Jaysen Trevino and Bryan Trevino. Also many great nieces and nephews. Eddie was very devoted to his family and friends. The closeness, love and laughter shared with Pamela will always be remembered.
Memorial services will be at 2:00p.m. on Friday, September 15th at Grace Episcopal Church, 1115 36th Street, Galveston with a reception immediately following the Mass at Jenkins Hall.