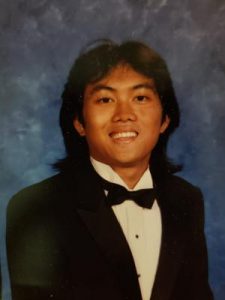 Edsel B. Casapao, 50 years old, passed away on April 23, 2021. He was born on October 8, 1970 in Quezon City, Philippines to late Eddie C. Casapao & Norma B. Casapao. He is survived by his mother; 3 brothers, Edgar, Edward, & Edwin; only sister-in-law Khanhly; only nephew Kosmo; numerous caring and loving uncles, aunties, & cousins in Houston, Chicago, California, Canada, & Philippines.
     He had a host of hobbies, including music, visual art, martial arts, comics, including a variety of sports and body building. As a child, Edsel played the organ and sang in the school choir, but the guitar was his absolute favorite!  He spent countless hours practicing guitar, writing music, and performed in several Rock bands in the Houston area.  Big, lofty dreams range from being an airplane pilot as a child, to a legendary movie star, Mr Olympia, & the greatest guitarist as an adult.
     Edsel was very friendly, and enjoyed sharing his time with others. He was never shy in speaking his true self, as to stimulate conversations, or simply make others laugh. Edsel was a daring individual who often dreamed big and took risks, which defined his passionate but innocent character.  In the end, Edsel always did his very best, yet possessed a very kind & generous heart, and ultimately cared deeply for others through the course of his life.
     He worked in several department stores, including Palais Royal, Venture, Fiesta and Target.  Edsel had also worked for the Houston Post. One of his previous bosses commented: "Edsel was well liked as he was a hard worker with a jolly personality."
     Edsel will surely be missed. Thank you for joining the family in this difficult time. Pray for his soul.  May he rest in peace.