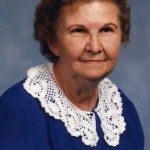 Our dear loved one, Edith Rogers, went to join her first and only love, Fred Rogers in God's House on September 6, 2014. She was born in Galveston, TX, December 7, 1923, and "Island Girl."
Left to cherish her memories: Kay and Pete Hudson, Fred Rogers, Jr., Kathy and Bob Smiley, and Lee and Ramona Rogers; grandchildren, Pete and Natalie Hudson, Paul and Shannon Hudson, Glenn, Ben, and Paul Rogers, Bernie and Trish Smiley, Sarah Smiley, Andrew Smiley and Kimberly and Daniel Kline; and eight great grandchildren.
Mom was always available for everyone who wanted/needed love, food, comfort or a true friend.
Edith was a devout catholic and close to the Lord.
She will be sadly missed by all.
Thanks to father Francis and Father Tino for life time friendship.
Thanks to Trinity Oaks, Christie, Sherrie and each dedicated staff member and Harbor Hospice, especially Erika, Kayla, Raquel and Dr. Brian Aquino.
A visitation in her honor will be held Tuesday, September 9, 2014, 4:00 – 5:00 pm, with a rosary at 5:00 pm, Crowder Funeral Home Chapel, League City, TX. Mass will be celebrated Wednesday, September 10, 2014, 11:00 am, St. Mary's of the Miraculous Medal, Texas City, TX. Interment follows at Mt. Olivet Catholic Cemetery, Dickinson, TX.
In lieu of flowers donations may be made to St. Jude Hospital, or Trinity Oaks crafts and prizes for Residents or Harbor Hospice.