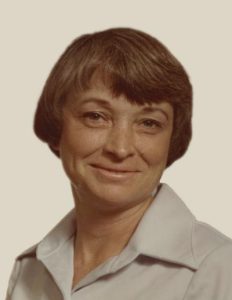 Edith Ramsay Reid, of Clear Lake City passed away on Monday, the 31st of January, 2022, at the age of 90. She was born to Maude Parker and Roy Allen Ramsay in Fort Worth, Texas, on the 24th of October, 1931.Edith grew up in Tulsa, Oklahoma and attended Central High School graduating in 1949.  She went on to the University of Oklahoma where she joined the Chi Omega sorority, and two years later she transferred to Tulsa University, graduating in 1953 with a degree in Medical Technology.
In 1956, Edith moved with her parents and found work at a hospital on the Pacific Island of Guam. She had very fond memories of her time spent on the Island. After two years, Edith and her parents took time on their return to the United States and traveled extensively through Asia, the Middle East, and Europe. Shortly after her return to Tulsa, she met her husband of 58 years, Richard Reid. They were married on the 10th of June, 1961 until his death in 2019. Soon after they married, they moved to Hampton, Virginia, and then Houston, Texas, in connection with Richard's career with NASA.
Edith was a talented pianist and a member of Clear Lake Presbyterian Church for more than 50 years. She played piano and organ for the church choir in the early years and later she accompanied the church's Spirit Singers. She also performed for various special events, and particularly enjoyed her time playing at the Hilton Hotel on Clear Lake.An excellent game player, puzzle solver, and a fierce competitor, Edith was a key member of the Pasadena and Clear Lake Bridge Clubs. A Diamond Life Master, she was a well-respected duplicate bridge player in the Houston area for many years. Edith ended her reign as 43rd on the Houston Masterpoint list.
She is survived by her children: daughter, Gretchen Schulz (Stephen); sons Philip Reid, David Reid (Karen Thomas); her grandchildren Shelby Schulz (Ben Rowe), Sean Schulz (Avery), and Jake Reid; niece Joan Arrington Miers and her family Jeffrey Miers (Amy), and their children Sloan, Brooke, and Blake; Stacy Miers and her son Turner Rider; and Edith's great niece Jamie Smith Luff (Martin) and their son James. She was preceded in death by her husband Richard Reid, sister Ruth Ramsay Arrington, and niece Joyce Arrington Smith.
Edith's family would like to thank Essential Hospice for their care and support. A memorial service will be held on Saturday, February 5th at 1:30 p.m. in the sanctuary of Clear Lake Presbyterian Church.In lieu of usual remembrances, contributions to Edith's memory may be directed to The Memorial Fund at Clear Lake Presbyterian Church, 1511 El Dorado Blvd, Houston, TX 77062.