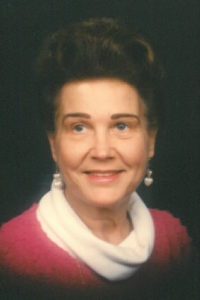 Ecie Luine Bell (84), of Alvin, Texas, passed away on Wednesday, October 26, 2016. She was born on April 6, 1932 to Cresie and Volly Laymance in Brownsboro, Texas.
Ecie is preceded in death by her mother and father, husband; Ruble "Pete" Bell, son; Larry Nicholson, grandson; David Allen, granddaughters; Christina and Caira and six brothers and sisters. She is survived by her three daughters; Karen Sabban (Robby) of Friendswood, Beth Riemer (Andy) of Alvin, and Sandy Ramirez (Charles) of Santa Fe, son; Richard Nicholson (Debbie) of Porter, sister; Tina Treadway of League City, 21 grandchildren and 27 great-grandchildren.
Visitation will be held on Sunday, October 30, 2016 from 1:00pm to 3:00pm at the James Crowder Funeral Home in La Marque, Texas. A funeral service will be held on Monday, October 31, 2016 at 1:00pm at James Crowder Funeral Home, interment to follow at Grace Memorial Park in Hitchcock.