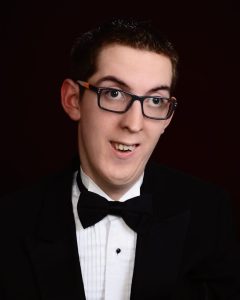 Dysen Meador, age 19, went to be with our Lord on September 2, 2022. Dysen was born on October 24th, 2002, in Lake Jackson, Texas. Dysen is survived by his Father Derik Meador and wife Ria Meador and Mother Tara Porfirio, Sisters Madeline Porfirio and Lexi Meador, Brothers Payton Meador and Lucas Meador. He is also survived by his paternal Grandparents Joel and Belinda Meador and maternal Grandparents Kevin and Sybil McElyea and so many other family members – Aunts, Uncles, Cousins, and many special friends.
Despite Dysen's physical challenges, even through major surgeries, illnesses or just normal daily routines, he was an exceptional person who never complained and impacted many people with his positive attitude and continuous smile. Dysen was truly a "Child of God" who taught us all so many lessons in life.
Dysen proudly graduated from Clear Lake High School in May 2021. After learning job work skills from Clear Lake, he was invited to start a new job working for the Stay Fresh with Peanut company located in Clear Lake. He was so excited and looked so forward to this new adventure.
Dysen had a special passion for sports and clearly was a loyal fan to many teams. He was the biggest fan for all of the Clear Lake High School teams – baseball, football, softball, volleyball, soccer and basketball. College teams he supported with all his heart was UT, UTSA, LSU and UH. His passion extended also to the Houston Astros, Texans, Rockets, Dynamo and also was a NASCAR fan through and through. He loved the outdoors, especially fishing with family and friends.
A Celebration of Life will be held for Dysen on Saturday, September 24th, 2022, from 3PM to 5:30PM at the Bay Oaks Country Club, 14545 Bay Oaks Blvd., Houston, TX 77059. In lieu of flowers, a donation to the Stay Fresh with Peanut Company, 930 Gemini St, Houston, TX  77058, or your favorite charity would be appreciated.