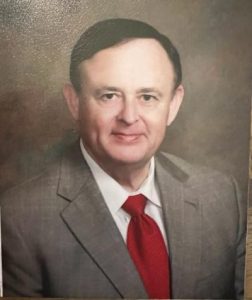 Howard Lavon Dillard Jr. MD, 75, passed peacefully into heaven on February 21, 2022 in Webster, Texas.  He was a devoted husband for 52 years to Sharon and a dedicated father to Tiffany and Nicole.  He was often called "a second father" by many of Tiffany and Nicole's friends as he and Sharon always had an open heart and welcoming home.  He is survived by his wife, Sharon Piperi Dillard; daughter, Nicole Dillard; sister, Gloria Jean Oeland; and numerous family members and friends.
Howard was born on July 27, 1946 in Joinerville, Texas to Howard L. Dillard, Sr. and Gertrude Yvonne Brown.  He earned a Bachelor of Science degree from The University of Texas and a Doctorate degree from the University of Texas Medical School in Galveston, Texas. Dr. Dillard worked as an Internist in the Clear Lake area for over 45 years and spent his life serving his community. He had an immense passion for caring for his patients.  In addition, he was the physician for the University of Houston at Clear Lake for 43 years. He thoroughly enjoyed his time interacting with the students and staff members. Serving as an educator and mentor to UTMB medical students throughout his career was a highlight in his life. He received the Top Doc award by the UTMB School of Medicine for his exemplary commitment to education.  
Known for his infectious laugh, he brought joy to his family and friends who were sacred to him.  His kindness and generosity was inspiring to all of us.  One of his most cherished hobbies was exploring fine dining and being a wine enthusiast, even being a part of a French food and wine club.  Howard and Sharon enjoyed all the cultural activities in Houston and the Bay Area including the Houston Symphony League and the Knights of Momus.   On weekends you could find him cheering on his revered UT Longhorns or with his adored puppy, Sophie, in the Starbucks line awaiting his daily latte and her whipped cream cup.  
He will be greatly missed by his loving wife Sharon, his daughter Nicole, family and friends. Dr. Dillard will always be remembered for his kind and loving soul and his desire to always help others.
His passing was preceded by his parents Howard L. Dillard, Sr. and Gertrude Yvonne Brown, his brother James Howard Dillard, and his beloved daughter Tiffany Elise Dillard. A visitation will be held on Monday, February 28, 2022 at 6 pm and a rosary to follow at 7 pm at Crowder Funeral home located on 111 East Medical Center Blvd in Webster, Texas. On Tuesday, March 1, 2022 a funeral service will be held at St. Clare of Assisi Catholic Church at 10 am located at 3131 El Dorado Blvd, Houston Texas. In lieu of flowers, the family suggests donations to the Pulmonary Fibrosis Foundation (www.pulmonaryfibrosis.org) or The Assistance League of the Bay Area in his name Dr. Howard L. Dillard Jr.