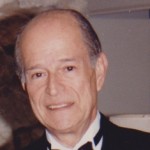 Dr. Federico Angel, 88 years old, passed away on July 1, 2014 in Webster, Texas. He was born on May 5, 1926 to Juan M. Angel and Herminia Villegas-Angel in Colombia, South America.  Dr. Angel is survived by his loving wife of 50 years, Kateri Wurtele-Angel, son, Dr. Ian Angel and family; daughters, Kateri Angel-Williams and family, Stephanie Angel Roman and family, and Dr. Federica Angel McCarthy and family; his dear brother, Dr. Jorge Angel and family; and numerous additional loving family members and friends.
Dr. Angel received his medical degree in 1952 from the National University of Colombia. In 1960, after several years of medical practice in Bogota, Colombia, he started his first three years of neurosurgical residency in Montreal, Canada, where he met his lovely wife. He completed three more years of residency in Glasgow, Scotland before returning to Canada to finish his final year of training. He moved to the United States in 1967 where he practiced neurosurgery in the Pasadena area for 29 years.  He had a passion for family life and he was a fabulous artist and poet.
Visitation will be held on Monday, July 7 from 6:00 pm to 8:00 pm with a Vigil Service at 7:00 pm at Crowder Funeral Home 111 East Medical Center Blvd., Webster, Texas 77598.  The Mass of the Resurrection will be held on Tuesday, July 8 at 10:30 am at St. Paul the Apostle Catholic Church, 18223 Point Lookout Drive, Nassau Bay, TX 77058.