Dorothy Jane Hennessy Breidenstein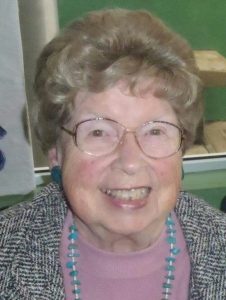 Dorothy Jane Hennessy Breidenstein, 91, passed away on January 10, 2017 in El Lago, Texas. She was born on February 4, 1925 in Buffalo, New York to James E. Hennessy and Mary Mulligan Hennessy. Dorothy was preceded in death by her husband, Richard Merle Breidenstein (1927-1998); sister, Geraldine Hennessy Busch (1917-1995); brothers, James E. Hennessy (1914-1976), Francis T. Hennessy (1915-1985) and Edward W. Hennessy (1918-1992), all of Buffalo, New York. Dorothy is survived by her daughter, Mary Edel Breidenstein Shuckman (1969) and her grandchildren, Drake Mitchell Carey (1990) and Allison Ersula Shuckman (1998); and 4 generations of family members and a great number of friends.
She attended business school post high school and worked as a secretary and office manager for many years until her marriage to Richard in 1966. Dorothy returned to work once her daughter was older and retired as an office manager from Gilkes, Inc. in 1996. She relocated with her husband and daughter to Slidell, Lousiana in 1972 as a result of her husband's job transfer and to El Lago, Texas in 1975, also due to her husband's employment related to the Johnson Space Center.
Dorothy deeply loved Our Lord Jesus and His Mother Mary, and offered every moment in her life through Mary to Jesus by passionately serving her family and everyone she met. In 1961, she joined The Legion of Mary in Buffalo, New York, and became a lifelong member working actively in Buffalo at the parish and curial levels where she met her husband, Dick, the love of her life. She carried the work of the Legion in 1972 to Slidell, Louisiana, and finally in 1975 to Houston, Texas where, with Dick, she founded the praesidium (chapter) at St. Paul the Apostle Catholic Church in Nassau Bay. At St. Paul's she shared her gifts with numerous groups and ministries including teaching children's religious formation, the Legion of Mary, Divine Mercy Society, Pro-Life Society, and is considered the founder and spiritual mother of Perpetual Adoration at the parish. She especially cherished young people and served as a Catholic Group volunteer for the Galveston-Houston Archdiocesan's Office of Special Youth Services at the Harris County Youth Village from 1998 to 2012. Her home welcomed the newcomer, the lonely, the needy and the seeking, and she ministered to all she met even in the last months of her life while suffering through the trials of her health. There was no end to her kindness and love and she will be greatly missed by her family and multitude of friends.
A Visitation and Rosary will be held on Thursday, January 19, 2017 at 6:00 p.m. at Crowder Funeral Home, 111 East Medical Center Blvd. Webster, Texas 77598. The Funeral Mass will be held on Friday, January 20, 2017 at 10:30 a.m. at St. Paul the Apostle Catholic Church, 18223 Point Lookout Drive, Nassau Bay, Texas 77058 with interment to follow at Mount Olivet Catholic Cemetery, 7801 Gulf Freeway, Dickinson, Texas 77539.
In lieu of flowers, those wishing to make a memorial donation in Dorothy's memory may do so to Star of Hope Mission, 6897 Ardmore, Houston, Texas 77054 (www.shohmission.org), or Casa de Esperanza, 2911 Corder, Building A, Houston, Texas 77054 (www.casahope.org).