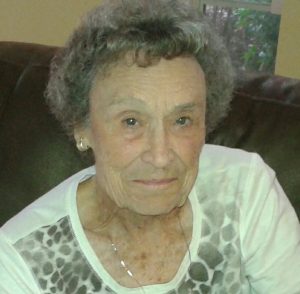 Dorothy Gray Herauf, age 92, died peacefully on June 7, 2018.  She was born September 20, 1925, in McGregor, Texas, the daughter of Emmett Gray and Henrietta ("Jack") Duncan.  The young family moved to Galveston several years later.  Dorothy graduated from Ball High School in 1942 and went to work as a lab tech in Galveston where she met her husband at the end of World War II.  Dorothy married Frederick Leonard Herauf in Galveston on October 17, 1946, and, in 1953, they moved to La Marque, Texas. They were married for 54 years.  Dorothy was a homemaker and she and Fred raised three children, Fred, Jr., Debra and Marianne.
Dorothy loved the Lord and served Him faithfully her entire life.  She was a long-time member of La Marque Church of Christ and, later, Mainland Church of Christ.  Hundreds of children experienced her loving attention as she taught Sunday school for many years.
Her favorite hobbies included spending time with her family, playing bridge with neighborhood friends, and watching her Astros.
Dorothy was preceded in death by her parents, her husband, Fred, her sister, Patricia Nash, and a brother, Ben Gray, who died in infancy.  Survivors include her son, Fred Herauf, Jr. (Lynda) of Allen, Texas, her daughter, Debra Furst (Jack) of Bartonville, Texas, her daughter, Marianne Myers, of Texas City, Texas, her brother, Emmett Gray of Bay St. Louis, Mississippi, and her sister Jo Ann Ellis Thompson of Modesto, California.  She is also survived by ten grandchildren and ten great-grandchildren, as well as numerous nieces and nephews.
The family wishes to extend their gratitude to Dorothy's caregivers at Bayou Pines Care Center in La Marque for their support during her stay there and to Dorothy's niece, Leslye Nash, for visiting so frequently and making sure Dorothy enjoyed some chocolate milkshakes and homemade cooking every now and then.
Visitation will be on Sunday, June 10, 2018, at 5:00p.m. to 8:00p.m., at James Crowder Funeral Home in La Marque, Texas.  The funeral will be held on June 11, 2018, at 10:00a.m., at Mainland Church of Christ in Texas City, Texas (4801 Emmett F. Lowry Expressway.), with burial following at Galveston Memorial Park Cemetery in Hitchcock, Texas.
The family would like to suggest that any memorials made in Dorothy's name, be sent to Mainland Church of Christ.