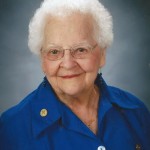 Dorothy (Dot) Lucas, 92, of La Marque passed away on Sunday, May 11, 2014.
Dot was born in Austin on October 18, 1921, to the late Luther and Jewel Farris. She graduated from Austin High School and earned a bachelor's degree in education from the University of Texas at Austin. Dot married the late John Lucas shortly after college.
After a 35 year teaching career, Dot retired from Westlawn Elementary School in La Marque in 1980. She was a beloved member of the La Marque community and a Charter member of Saint Michael's Episcopal Church. Dot volunteered for 50 years at the Mainland Medical Center Auxiliary where she was bestowed the First Humanitarian Award. An avid writer and poet, her award-winning essay honoring the American flag was submitted to the Congressional Record in 1996 and read on the floor of the House of Representatives. Dot authored Westlawn Elementary's school song, was the designated poet for Mainland Center Auxiliary's annual service theme, and was known for wearing her clown costume every year to cheer up the children at the hospital. Dot is a member of Delta Kappa Gamma and a Life Member of the Texas Exes Alumni Chapter. Dot's fondest memories were attending UT football games with Johnny and dancing the jitterbug at the Alumni Center while the University band played the "Eyes of Texas".
Dot is preceded by husband, John; son, Scott Lucas; brother, W.L. (Dub) Farris; sister, Mary Lee De Berry; nephew, Larry Farris; brother-in-law, Drew De Berry. She is survived by her daughter, Donna Stanley of La Marque, and son-in-law, Dicky Stanley. She is also survived by two grandchildren, John Stanley and Julie Dickman; grandson-in-law, Al Dickman; great-grandchild, Mia; nephew, Nick DeBerry; niece Candy Olson, and her husband, Ivan; and other relatives. Dot's family wishes to thank caregiver, Dorothy Rhodes, and nurse Setha from AMED hospice services.
Visitation will be held at Crowder Funeral home in La Marque on Wednesday, May 14th, from 5 to 7 pm. Funeral services will be Thursday, May 15th, at Saint Michaels Episcopal Church in La Marque, at 10:00 am.