Dorotha Daphine Klock Holmes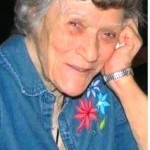 Dorotha Daphine Klock Holmes, age 90, fell asleep in the arms of Jesus on April 11, 2014, surrounded by her loved ones. She is resting in peace and awaiting the soon coming of Our Lord Jesus Christ.
She is preceded in death by her parents Charles and Sybil Klock, her husband Robert D. Holmes Sr., their first born Robert Gary Holmes, grandsons Eric Carter and Chad Holmes, and her silblings Vernon Klock, Lionel Klock and Aline Sanders.
She is survived by her sister Dean Klock Baxter, her children Roberta Holmes-Carter of Vidor, Texas, Laveta Holmes-McGary and husband William McGary of Texas City, Texas, Charles Holmes and wife Neva Holmes of Anchorage, Alaska, and Robert Holmes and wife Debbie Holmes of Texas City, Texas.
Daphine held many titles during her wonderful life. She was a big sister to her four siblings. She became a wife at the age 14. She was a loving, mother to her 5 children, and a grandmother of 12 grandchildren, 27 great grandchildren and 5 great-great grandchildren. Her other titles include Private Pilot at age 19, LVN, RN Labor and delivery and Hospice, many positions at The Seventh-Day Adventist Church and she worked in Texas City Civil defense during hurricane Carla. Daphine was also an aunt and a friend to many.
The viewing will be held at Crowder Funeral Home in LaMarque on Tuesday, April 15, 2014 from 5pm-7pm. The funeral service will be on Wednesday, April 16, 2014 at 10am, also at Crowder Funeral Home. Burial will follow at Memory Garden Cemetery in Edna, Texas at 3pm.
Pallbearers are her grandsons Darrell Holms, Jamie Holmes, Jeremey Holmes, Don Carter, Billy Carter and Bobby Carter. Honorary Pallbearers is her grandson Nathan Savchenko. Alternate Pallbearers are her great grandson Alan Garner, Kendall Holmes, Weldon Holmes, and Tristan Askew.
Dorotha Daphine Klock Holmes, if love could have saved you, you would have lived forever.