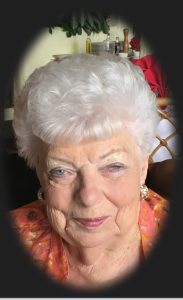 Doris Jean Arnett Parker, 95, passed away peacefully at UTMB Clear Lake Hospital in Webster, TX on November 9, 2022. Doris Jean will always be remembered for her twinkling eyes, glowing smile and her brilliant storytelling memory. Doriis Jean was born on September 18, 1927, in Eagle Lake, TX, to Ivan T. and Myrtle Kohleffel Arnett.
Raised in Eagle Lake by her parents and grandparents Margaret J. and William G. Kohleffel. Doris started first grade in Eagle Lake and then moved in fourth grade to South Houston. She graduated from Pasadena High school in 1944. Her 50+ year working career began at Ellington Air Field during WWII and ended with her retirement as Executive Secretary at Conoco Oil Company.  Doris met Johnny J. Parker, love of her life at a Houston YMCA dance and they were married June 7, 1947.
Doris' lifetime partnership with Johnny overflowed with happy times spent with family, friends, and enriching lives of countless people. In the early 1960's Johnny and Doris moved from Houston to Pasadena to build their dream home on Chile Drive and open Parker's Dairy Mart on Strawberry Rd.  When not at the office Doris was accompanying Johnny, Harris County Precinct 2 Parks Supervisor, as they played Mr. and Mrs. Santa Clause. Doris enjoyed community service at Rotary Club Auxiliary, Pasadena Community Club, Precinct 348 election polls, and classroom storyteller at Pasadena ISD. Member of First Baptist Church Pasadena, Doris treasured friends made in Sunday School, Keenage Club, Bunko/card groups, especially dear friends Doris & Buddy Searle, Jan & Doug Felps, Betty & Bill Dudley, Doris & Les Bandy.
Doris Jean is preceded in death by her parents, aunts Marie Arnett Kohleffel, Willie Mill, Gladys Treybig and uncles Raymond R. and Alvin W. Kohleffel; first cousins Raymond Lee Kohleffel, Dorothy Kohleffel Cassady, Virginia Mill Bauer, Margaret Treybig Martin, Harry & James Treybig and dearest friend Lois Robinson. Survived by loving friends and family Debbie Sheridan, Karen Savage, Chris Sheridan, Dina Kohleffel, Ridge & Bob Livermore, Leslie, Jerri & Emily Parker, as well as Kohleffel, Bauer, and Treybig cousins. Doris cherished her caring, uplifting and pampered lifestyle provided by her loving family at Heartis Senior Living Home in Webster, TX.
Services held on Saturday, November 12, 2022, at Crowder Funeral Home, 111 East Medical Center Blvd, Webster, TX. 77598. Visitation at 9:30 am.  Services at 10:00 am followed by fellowship luncheon at Crowder. Private Interment at Lakeside Cemetery, Eagle Lake, TX.  Charitable donations to First Baptist Church Helping Hands Program, 7500 West Fairmont Parkway Pasadena, TX. 77505.