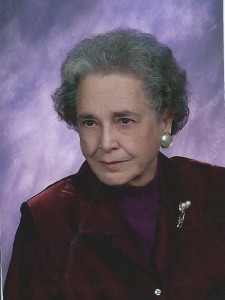 Doris Elaine White, 92, of La Marque passed away on Tuesday, December 8, 2015 in Santa Fe, Texas. She was born September 28, 1923 in Texas City, Texas to Collis and Alberta Westerlage. Doris was a lifetime resident of La Marque, and was a charter member of First Christian Church of La Marque.
She is preceded in death by her parents and her husband Stewart White. Doris is survived by her sons; Robert S. White and Anne of Santa Fe, Texas and Clinton P. White of Carmine, Texas; sister, Dorothy Cathcart of La Marque; three grandchildren, Ginger Eckenrode and Jon, Lauren Hodde and Jason and Caleb White and Andrea and three great-grandchildren, Grant Eckenrode, Houston Hodde and Harper Hodde.
The family would like to say a special thanks to Kathryn Loving for her care and love.
Visitation will be Thursday, December 10, 2015 from 5:00pm – 7:00pm at the James Crowder Funeral Home in La Marque. Funeral Service will be at 10:00am on Friday, December 11, 2015 at First Christian Church with Pastor Rex Teter officiating, 1204 Ross Street, La Marque, Texas. Burial will follow at La Marque City Cemetery.
In lieu of flowers memorials may be made to the First Christian Church of La Marque, 1204 Ross Street, La Marque, Texas 77568.