Donna Rene Crump – Holcomb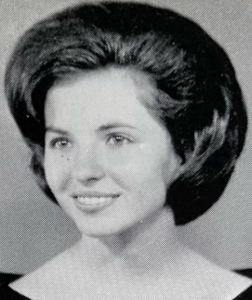 Donna Rene Crump – Holcomb was born on September 21, 1946 to Marshall Crump and Geneva Merle Keith Crump in Paris, Texas. She was raised in Cunningham, Texas until her single mom moved to Mount Pleasant where at an early age she taught herself how to cook while standing on a stool so she could reach the stove to help take care of her twin brother Danny Crump and their older brother Keith Crump. She enjoyed cooking for others and seeing their reaction brought her great joy. She attended Mt. Pleasant High-school where she expressed her love for music through being a Band member. She was a natural beauty both locally as a pageant contestant in her hometown as well as nominated for most beautiful at North Texas University where she graduated with the Class of 1969. Before starting her teaching career, her love for writing lead her into journalism working for the local newspaper in Denton TX.
While pursuing her career in Elementary Education: she moved to the Galveston area; where she enjoyed the beach, sailing, surfing and waterskiing. She married Randy Holcomb, then had two sons Bradley Keith Holcomb and Daniel Riley Holcomb. While teaching in the Clear Creek Independent School District: she achieved multiple continuing education certificates; was active with the D.A.R.E. Program and was involved in the Teachers Space Camp Program at NASA. Upon reaching retirement: she finally decided to unplug the projector and put the chalk down; or so she thought…welcome to Teachers Free Agency!!!  She wasn't on the market long and was hired back by another school district, then eventually decided she'd had enough, although she still continued to substitute for years to come. She was an active member of her teachers sorority ADK and President (twice) as well as member of the Kiwanis Club. During this time she lived in a dream home at Tiki Island: which was her residence for over ten years; she was an active member of the Tiki Island Chapel, where she also cohosted the first wedding ceremony ever held at the new church location for her son Dan. After remodeling her home from the devastation of Hurricane Ike in September 2008, she moved inland to be closer to her grandkids. She found a nice quiet home at Tuscan Lakes in League City where she continued teaching part-time before deciding she wanted to work with adults for a change. At that time she was determined to make her mark in retail sales with a part time job at CHICO'S. As an active pillar of the community, she always assisted by helping people even when she moved to The BELDON as one of the first residents of the 55+ Independent Living Retirement Community in Friendswood after really retiring.
Donna passed away in Houston on September 5th after an arduous process on a long road to recovery due to her second Traumatic Brain Injury. The first was on October 1st of 2014 and the second on March 19th 2023. This lead to hospitalization at The Medical Center in Houston, where she was treated at Memorial Hermann Hospital as well as TIRR Memorial Hermann Rehabilitation Hospital.
She is preceded in death by her mother Neva Merle Keith Crump of Mt Pleasant, her father Marshall Crump of Cunningham, Texas, grandparents Grover and Cumi Keith,  Albert and Ora Crump of Cunningham, TX. She is survived by her elder brother Keith Crump as well as twin brother Danny Crump plus Sister In-law Billie Crump of Mt Pleasant: sons Brad Holcomb of Austin and Dan Holcomb of Friendswood; as well as three grandchildren, Hayden, Evie and Hallie. Her cousins: Ricky Jordan; Rita Harvey, Wanda and Carol Keith, James and Johnny Siau, Martin and Linda Keith. Her "favorite nephew" Adam Crump and nieces Natalie as well as Andrea. Her many cherished friends: college roommate Viv Ann Blair; Ronda Cress-Kirkpatrick, especially the Fanning family, the Klein Family, Sharon Jacquet, Carol Ottwork Haserd, JoAnn Stringfellow and Dorothy Jeffcoat. Also her Tiki Island and The BELDON families. She had a knack for making friends everywhere she went: was truly loved by all; she especially loved her family, which meant the world to her and also treated her friends like family as well.
The family wishes to thank her care givers starting with First Responders and Life Flight to Memorial Hermann Hospital: especially Dr. Kitagawa and the Neuro Critical Care Team for saving her life twice as well as her Family Practitioner Dr. Julie Bortolotti, for giving us 9 more years with her.
A Celebration of Life for Donna will be held on Thursday, September 21, 2023 a casual start at 5 o'clockish with a focus on 6-7PM; B.Y.O.Beverage or deserts, in the Banquet Room area at The BELDON , 555 N Friendswood Dr, Friendswood, TX 77546
A Memorial Service will be held on Friday, September 22, 2023 at 11 am at the First United Methodist Church, 110 N Friendswood Dr, Friendswood 77546. Burial of ashes will be held on Saturday, September 23, 2023 at 11 a.m. at Bogata Cemetery, 3rd St NE. Bogata, TX 75417.