Donna Louise Graves Mabry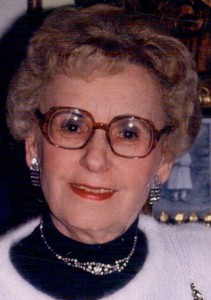 Donna Louise Graves Mabry, 88, died Thursday, July 2. She was born in Chicago on April 11, 1927, to William B. Graves and Lillian Frazee Graves. After early grade school in Chicago, the family moved to Denver where Donna graduated from East High School in 1945. After the war, she and her family returned to the family home town of Bardwell, Kentucky.
Donna attended Murray College, later to become Murray State University in Murray, Kentucky, receiving an undergraduate degree and an MA in Social Studies/American History as well as a later certification in Social Work. She was a member of Alpha Sigma Alpha sorority, the International Relations Club and American Association of University Women.
In 1950 she married Robert J. Mabry. Following in the footsteps of a long line of educators in the family, Donna taught many years in Kentucky public schools before retiring in 1987 from Murray City Schools with 25 years of service there. That summer Donna & Robert moved to Houston, Texas, to be near children and grandson. In later years they were residents of Bella Vita Retirement Community, Pearland, Texas.
Starting with her baptism and confirmation at St. John's Cathedral, Denver, Donna has always felt a great love and dedication to her church. Donna and Robert were active members of Bardwell Methodist Church, later of St. John's Episcopal Church, Murray, Kentucky, and finally long time members of St. Andrew's Episcopal Church, Pearland, Texas. At St. Andrew's Donna served as director of the Altar Guild, Sunday school teacher, and lay reader. She was a member of the Daughters of the King, She and Robert participated in many community outreach initiatives including Meals on Wheels. She has been referred to as a "Tour d' Force" of the church.
Donna loved decorating and entertaining family and friends. She and Robert both enjoyed square dancing. Always interested in politics, she served as democratic precinct chairperson and worked the polls for many elections. A highlight for her was attending the Texas democratic state convention as alternate delegate. She was a lifelong lover of books and poetry. She and Robert both enjoyed travel and history.
Preceded in death by her husband in 2014 and her brother Richard Graves in 2012, she is survived by daughter and husband, Deborah and Joe James; by son Phillip Mabry; by grandson Justin James and wife Susu and great grandson Julian; by sister-in-law Anne Graves and nephews David, John, and Paul Graves.
A memorial service will be held on Saturday, July 11, 2015 at 11:00am, at St. Andrews Episcopal Church, 2535 E. Broadway, Pearland, Tx 77581.
In lieu of flowers, please make donations to the Altar Guild and to the Daughters of the King.