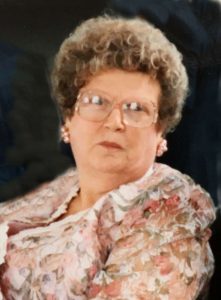 Donna Lee Golden Hunter, 88, of Friendswood passed away on August 17, 2019. Donna was born in Galveston, TX to Edward and Grace Golden on December 12, 1930. Donna was raised in Galveston and was proud to be BOI.
She was a member of St. Patrick's Parish and graduated from Ball High School in 1948. She enjoyed a successful career at College of the Mainland.
While raising her family in La Marque, she served Queen of Peace Catholic Church in a variety of ways. She was a constant source of joy and inspiration to members of her parish and community.
Donna was preceded in death by her devoted husband of 34 years, Roy W. Hunter. She is survived by her loving children. Son, Wally Deats and wife Deb of Dickinson; daughter, Gail Rodgers and husband George of Shiner; step-daughter Amy Winn of Austin; step-daughter Patricia Cowart and husband Curly of Georgetown. She also leaves eight loving grandchildren, numerous great grandchildren, and great-great grandchildren.
Donna enjoyed playing bridge and traveling. Most of all she loved her many friends and family that she had throughout Galveston County. Her entire family will always remember her fondly for her constant source of love, wit, guidance and inspiration.
The bonds of true love are not destroyed in death but are made even stronger. We are united in Christ.
Visitation will be on Thursday, August 22, 2019 from 5:00pm-7:00pm with a Rosary/Vigil at 7:00pm at the James Crowder Funeral Home in La Marque. A funeral mass will be at 10:00am on Friday, August 23, 2019 at  Queen of Peace Catholic Church with Father Chacko Puthumayil and Father Sibi Kunninu officiating.  Interment will follow at Hayes Grace Memorial Park in Hitchcock, Texas.
Pallbearers will be Dale Golden, Philip Golden, Paul Golden, Glenn Golden, Mike Ferrell, and Pat Ferrell.
In lieu of flowers memorials may be given to Queen of Peace Catholic Church 1224 Cedar Drive La Marque, Texas   77568.