Donald Thomas Kemmerling Jr.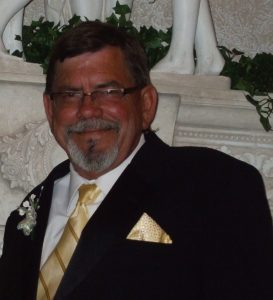 Donald Thomas Kemmerling Jr., 62, of Hitchcock passed away Tuesday, February 27, 2018 in Galveston, Texas.  He was born July 27, 1955 in San Diego, California to Donald and Shirley Kemmerling.
Donald was a lifetime resident of Hitchcock, a former Boy Scout Leader,  a Phi Kappa PSI Fraternity member in College at Southwest Texas State University, a Hitchcock Little League Baseball Coach, and a member of Peace Lutheran Church of Texas City.
He is preceded in death by his father Donald Thomas Kemmerling Sr.  Donald is survived by his wife Brenda Kemmerling of Hitchcock, mother Shirley Kemmerling of Lake Jackson, mother-in-law Willie Windham of Hitchcock, his three sons: Donald Kemmerling III and wife Tina of Austin, Joshua Kemmerling and wife Shellie of Austin, and Cody Kemmerling and wife Delilah of Austin, two unbiological sons: Jesse Falcon and Richard Reed, sister Tracy Zepeda and husband Joey of League City, two brothers: Brian Kemmerling and wife Anita of League City, and Larry Kemmerling and wife Katy of Lake Jackson, his five grandchildren: Cody Kemmerling Jr., Daylan Kemmerling, Collin Kemmerling, Demi Rose Kemmerling, and Marshall Kemmerling Jr., and numerous nieces and nephews.
Visitation will be on Saturday, March 3, 2018 from1:00pm – 3:00pm at the Crowder Funeral Home in La Marque.  Funeral Service will begin at 3:00pm on Saturday, March 3, 2018 with Pastor John Elliott officiating.  Interment will follow at Hypolite Perthuis Cemetery in Hitchcock, Texas.
Pallbearers will be Donald Kemmerling III, Joshua Kemmerling, Cody Kemmerling, Jesse Falcon and Richard Reed.