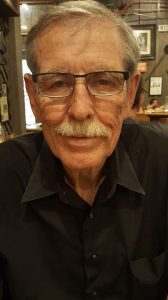 Donald Ray Akins, 70, passed away in his home November 17, 2017. Mr. Akins was born in Houston, TX January 10, 1947. Donald served his country in the U.S. Airforce during Vietnam War, stationed in Tripoli Libya and Sherman, TX. He lived in the Pearland area for twenty-five years and worked for Sears for nearly forty- years.
Donald is preceded in death by his parents, Leeo and Opal Akins; his sisters: Joanne and Shirley Akins.
Donald leaves behind to cherish his memories, wife Carolyn Kay Akins; son, Nicholas Raymond Akins, wife Autumn; step daughter, Karrie Sias, husband Jesse; step son, David Roller, wife Veronica; grandchildren: Addison Robin Akins, Avery Violet Akins, Colby Jacob Sias, Alec Preston Sias, Shelby Elizabeth Sias and John Voss Roller.
Visitation will be held from 5-8 p.m. Tuesday, November 21, 2017 at Crowder Funeral Home in Pearland. Funeral service will begin Wednesday, November 22, 2017 at 10a.m in the chapel of Crowder Funeral Home. Burial to follow at South Park Cemetery.
Pallbearers will be: Nicholas Akins, Robert Champion, Brian Haenggi, David Roller, Steve Gassaway and Bubba Knight.
In lieu of flowers, please donate in Donald Ray Akins memory to the charity of your choice.