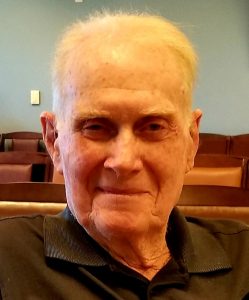 Donald Larry Morgan passed away peacefully in the early morning hours of February 28, 2021. Donald was born March 4, 1935, in Houston, Texas to Charles and Pearl Morgan.
Donald attended Jefferson Davis High School in Houston Texas and enlisted in the U.S. Navy during his senior year. After graduating in 1953, Donald started his Navy adventure training and serving on active duty in the submarine service as a Torpedoman. While on leave in his hometown of Houston, Texas, Donald was to have a fateful meeting at a local YWCA. There at a YWCA dance, Donald met Vivian Crosby, the love of his life and his future wife.
Donald and Vivian would wed in 1956 and by 1960, the couple would be ready to start a family with Donald transitioning from active duty to the reserves. They welcomed their first child Marcia in 1960 and son Scott in 1966. Donald started his civilian work career as a lineman for the Houston Lighting and Power Company but his big break came when he was hired by the Diamond Alkali Chemical Plant in Deer Park, Texas as an Operator. Donald rose through the ranks of operations and maintenance eventually being promoted to management in the maintenance field. Donald continued in that role until retirement in 1997.
After retiring, Donald and Vivian moved to Canon City, Colorado and built a log cabin home on 40 acres of beautiful mountainside property. As beautiful as their home was, it couldn't keep Donald and Vivian away from family. Especially when a grandson was now in the picture. In 2002 Donald and Vivian moved to League City, Texas to be near family and friends.
Donald thrived and enjoyed being back around family and friends, especially playing a big role in the lives of his son and grandson. Donald provided an example of what a husband and a father should be. Donald and Vivian rejoined bowling leagues in Baytown, Texas where they had been a fixture for over 5 decades. Donald also rekindled his love for drag racing spending many Friday nights with his son at Houston Raceway Park enjoying the cars and the racing.
Anyone who met Donald Morgan would come away with an impression of a man with a big smile and friendly nature. He set an example of how to treat other people whether they were a stranger, coworker, or friend. He was the kind of man who would jump out of bed in the middle of the night to help someone stranded on the road or if the company he worked for needed help. He also took care of a wife with Alzheimer's without a complaint and without anyone knowing until his own health issues necessitated intervention from family. Even through the cognitive issues Donald had at the closing of his life, he knew he missed and loved "Viv," and longed to be with her again. Dad now has his wish.
Donald was proceeded in death his parents Charles and Pearl Morgan, sister Judy Spiller, wife of 62 years Vivian Morgan, and daughter Marcia Morgan Brown. Donald leaves behind his son Scott Morgan and wife Renee Morgan, grandson Erik Morgan and numerous nephews and nieces.
A mans measure is not judged on his material possessions or his worldly exploits, but by his affect on his family and friends. Say hello to mom dad. Until we meet again.
The Family will receive friends on Friday, March 5, 2021 at 1:00pm with a Ceremony at 2:00pm at Crowder Funeral Home, 1645 East Main, League City, Texas 77573 with Pastor Justin Tanner presiding.
The service will be live streamed : https://youtu.be/W4ouACSMhfA