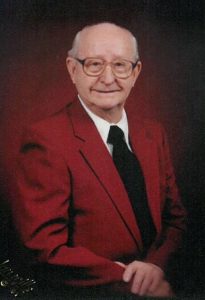 Donald C. Havard passed away in the company of his loving family, on March 11 2017, in Waco, TX. Don was born near Zavalla, TX, to Allen and Jewel Havard, on September 30, 1926.
Don grew up in Angelina County but he entered the US Army prior to completing high school. Don was assigned to Battery A 29th Battalion, at Fort Sill, OK, and achieved the rank of sergeant while serving in the Asian-Pacific Theater of World War II. There he was awarded several decorations and citations prior to an Honorable Discharge in November 1946. After returning home, Don moved to Texas City in 1947. There he completed his education and graduated from Central High School, in 1948.
On June 25, 1955, he married Maurice Selman. They established their home in Texas City and were blessed in July 1959 with the birth of their daughter, Donna. At the time of her death Don and Maurice were married 60 years.
Don was a member of First Baptist Church of Texas City. He was employed for 38 years at American Oil in the accounting department, retiring in January 1987.
He was an excellent amateur bowler and won many individual and team championships while playing in the American Oil league. He found great joy playing golf and 42 with family and friends. Don was a dedicated and active participant in MHMR Association meetings and events. But, on many weekends, he would relax with the family in East Texas, near is old homestead.
Don was a rock of foundation to his family, whom he loved dearly. He never met a stranger in the community he left behind. He will be deeply missed by all who knew him.
He is preceded in death by his wife Maurice, his parents, brother Herman, and his sisters Ruth and Doris Hellen.
Don is survived by his daughter, Donna and her husband Lewis Edinburgh, his grandsons Allen Edinburgh and wife Katy, Daniel Edinburgh and wife Mollye, and granddaughter (his "Sugarbear") Theresa Hohman and her husband Kenny. He had eight great-grandchildren Gavin, Genevieve, Reese, Heath, and York Edinburgh; and William, Adelaide, and Benjamin Hohman. He also leaves behind his sister-in-law Dean Tomlinson, brothers-in-law Billy Don Sr and Patricia, and Nub and Laura Selman; as well as many nieces and nephews.
The family extends its deepest appreciation to his faithful caregiver, Naomi Bryant.
Visitation is set from 6pm to 8pm, on Wednesday, March 15, 2017 at James Crowder Funeral Home, La Marque, TX.
Interment will be at 10am, on Thursday, March 16, 2017 at the mausoleum of Galveston Memorial Park cemetery.