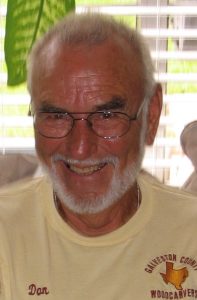 Don Burl Hartt. 80, of Dickinson, TX, passed away October 14, 2019 in Texas City, TX. Don was born December 20, 1938, to Faye and Louin Hartt in Garrison, Texas. He worked as a master plumber on commercial projects and was a lifetime member of Local 68 for over fifty years. Don was nationally known as a woodcarving instructor and belonged to the Texas Woodcarvers Guild. Please view samples of his craft at donharttcanes.com. Don was admired and loved by all and adored by many. He was a good loving kind soul. Don will be remembered as an outstanding husband, father, grandfather, great-grandfather and friend. He was preceded in death by his parents, his son Daniel Ray Hartt, grandson Christopher David Baker, and brothers Benny Ray Hartt, Roger Dale Hartt, and David Glenn Hartt.
He leaves behind to cherish his memory his beloved wife of 63 years Lily Jo Hartt; daughters Donna Glover and husband Wynn, Rhonda Embry and husband Michael, and Janis Green and husband Jerry; sister Ada Gayle Scovel; brother Richard Lynn Hartt; grandchildren Carrie Jo Carreno and husband Alejandro, Brandon Michael Embry, Dayna Marie Green, Amanda Jo Green, and Jerry Roger Green, Jr.; great grandchildren Dharma Marie Baker, Hanna Leia Gonzales, Nicholas Matthew Gonzales, Amber Gandy, Kyle Keeton, Brandon Wilburn, Aaron Jones, Brice Batson, Kayli West, and Hunter Green, and numerous nieces, nephews, and friends.
A memorial service will be held in his honor, 6:00 PM, Friday, October 18, 2019, at Crowder Funeral Home Chapel, Dickinson, Texas.