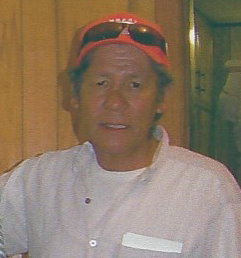 Domingo Falcon Guzman, 63 of Texas City passed away Saturday, December 20, 2014 in Texas City, Texas.
Domingo was born October 29, 1951 in Galveston, Texas, the son of Raymond G. Guzman, Sr. and Eva Falcon Guzman. He was a lifelong resident of Texas City and a member of St. Mary's of the Miraculous Medal Catholic Church in Texas City. Domingo was a veteran of the United States Army, he served in the communication division with NATO Secret materials. He worked as a handy man. He is preceded in death by his father and two brothers Robinson Guzman and John San Juan Guzman; and sister Evalina Parson.
Domingo is survived by his mother Eva Guzman; four sisters, Lupe Rodriquez, Isabel Martinez, Carolina Mayeux and Helen Guzman; four brothers Ben Guzman and wife Rosie, Raymond Guzman Jr., Ruben Guzman and Max Guzman; numerous nieces and nephews and friends.
Visitation will be Monday, December 22, 2014 from 5:00 p.m. to 7:00 p.m. with a vigil service at 6:00 p.m. at St. Mary's of the Miraculous Medal Catholic Church, 1604 9th Ave North, Texas City with Deacon Joe Hensley, officiating. Funeral Mass will be 11:00 a.m. Tuesday, December 23, 2014 at St. Mary's Catholic Church with Father Tom Ponzini, officiating. Interment will follow at Hayes Grace Memorial Park in Hitchcock, Texas.
Domingo's pallbearers will be member of the Veterans of the American Legions Riders of Texas City and honorary pallbearers will be his brothers Ben, Raymond, Ruben and Max Guzman.