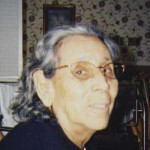 Dominga Hernandez, 88, resident of Dickinson, Texas, passed away January 17, 2014. She was born August 4, 1925 in Mexico to parents, Fortunato and Petra Ramos.
She was a longtime member of Shrine of the True Cross Catholic Church in Dickinson, and St. Mary of the Miraculous Medal Catholic Church in Texas City. Dominga loved to play bingo and watching her television show Pop. She enjoyed spending time with her daughters and family.
She was preceded in death by her husband, Moises Hernandez, and sons, Sergio A. Hernandez, and Dago B. Mendoza.
She is survived by her daughters, Rosaelia G. Moreno, Cleya E. Serrano, Marie A. Rodriguez, Alma R. Hernandez, Martha E. De Hoyos; sons, Juan A. Hernandez and Jose Saul Hernandez; thirty grandchildren, seventy-five great-grandchildren, and fourteen great-great-grandchildren.
Visitation will be held from 5 pm – 8 pm Monday, January 20, 2014 with a rosary beginning at 6:30 pm at Crowder Funeral Home in Dickinson. Funeral Mass will be held at 10 am Tuesday, January 21, 2014 at Shrine of the True Cross Catholic Church in Dickinson with Rite of Committal following at Mt. Olivet Cemetery in Dickinson.