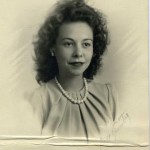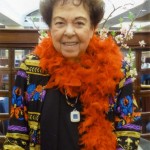 Dolly Farrow Nicol, 84, resident of League City, TX passed away May 2, 2014. Born July 22, 1929 to Gertrude Lucille and Moody K. Farrow. Dolly was a Fourth Generation Texan and member of the Daughters of the Republic of Texas; Daughters of the American Revolution; Daughters of the War of 1812; United Daughters of the Confederacy and Daughters of American Colonists. She won the 2003 Award of Excellence for her genealogical expertise with her Thomas Hayes and Asworth family book.
Dolly wrote many family history books. Her attention to detail was unparalleled. Her quest began in 1978 when she found her first old document dated in the 1850's in the Court House in Galveston, TX belonging to her Farrow family.
She was a member of Faith Lutheran Church in Dickinson. Dolly attended beauty school in Houston. Dolly opened the first Beauty Salon in League City in 1951 and also owned the Beauty Salon in the Professional building in Galveston. Dolly and her husband moved to Port Bolivar in 1962 and raised three children there.
Dolly was preceded in death by her parents Moody K. Farrow and Gertrude Lucille Farrow, her husband Louis G. Nicol and her brother Jack R. Farrow.
She is survived by her brother, Bill Farrow, and her three children Steve Nicol and wife, Vicki, Chere McQuiston , and William Nicol and wife Mary; four Grandchildren, Russell McQuiston and wife Misty, Nathan McQuiston , Ryan McQuiston, and Lauren and husband Ahysen Wheat; and Great grandchildren, Addy and Kasen McQuiston, and Hudson and Tyson Wheat.
A visitation in Dolly's honor will be held Sunday, May 4, 2014, from 5:00 to 8:00 p.m., Crowder Funeral Home, Dickinson, Texas, with Graveside Services Monday, May 5, 2014 10:30 am, Forest Park East Cemetery, Webster, TX.
In lieu of flowers, memorial donations may be made to Faith Lutheran Church or to the Clayton Genealogy Library, 5300 Caroline, Houston, TX 77004.