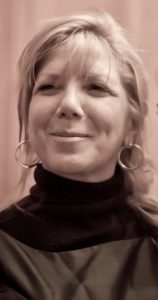 Diane Vivien Guillaume died peacefully after a brief battle with cancer on Sunday, September 17, 2023. She is preceded in death by her father, Albert B. Clements, Sr.; her sister, Theresa Clements; her nephew, Christopher Clements; and her grandparents, Archie and Louise Tharp and Bernie and Elizabeth Clements.
She is survived by her mother, Vivien Tharp Clements.
She is survived by her husband Bill Guillaume of  37 years, as well as her brothers: Albert B. Clements, Jr. (Galveston), Lawrence Clements and wife Pamela (Conroe), Daniel Clements (Hockley), Matthew Clements and wife Shannon (Goliad), Mark Clements and wife Rachael (Pennsylvania), and Anthony Clements and wife Aimée (Santa Fe), and her sisters: Dolores Zawol (California), Mary Kennedy and husband Jim (Rusk), Elizabeth Kocurek and husband Tom (Spring), Christine Lazenby and husband Conner (Conroe), Johanna García and husband Juan (San Antonio), and Angela Okonski and husband Tony (Bryan).
She is also survived by her paternal aunt, Elizabeth Ledesma, numerous cousins, nieces and nephews, and great nieces and nephews.
Diane graduated from Westbury High School (Houston) in 1976. She began working as an interior designer after a few years of college. She then began a career at Coldwell Banker working in commercial real estate, continuing with John Birdsong until he retired. Diane continued her career for over twenty years with Amherst Pierpont working numerous deals, and eventually becoming Vice President of the branch. Amherst Pierpont was bought out by Santander Bank where she worked until her untimely death.
Diane had many hobbies and interests including drawing and working in the yard and she proved to be quite good at both. Driver, rider, racer, or spectator, whether it was a car or motorcycle, she had a love of all things fast. She enjoyed the outdoors, most especially the beach which held a special place in her heart.  She had a lifelong dream of one day becoming a Forest Ranger.
As the first born of fourteen children, Diane showed her siblings what it meant to give of herself to anyone who needed help. She could be trusted and counted on always. She was a friend to anyone whom she met.
Visitation will be Tuesday, September 26th from 5:00PM – 7:00PM followed by Rosary at Crowder Funeral Home in Pearland. A Requiem Mass will be offered Wednesday, September 27th  at 9:30AM at Annunciation Catholic Church 1618 Texas Ave. Rite of Committal immediately following at Earthman Resthaven Cemetery 13102 North Freeway.
In lieu of flowers, donations can be made to St. Jude Children's Research Hospital, https://www.stjude.org/