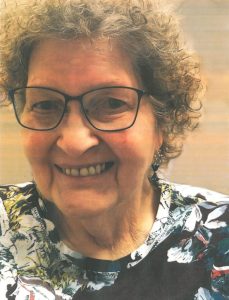 Diana Ruth Hill, 88, a resident of Nassau Bay, Texas, passed away peacefully on December 3, 2022.
Diana was born on May 13, 1934, to Clyde and Ruth Morgan in Avonmore, PA. Shortly after, the Morgan family moved to Mamont, PA and Diana completed her schooling in Washington Township. In her High School years, Diana and her mother opened and operated a Dairy Bar. After high school graduation Diana worked at Alcoa for five years.
In August of 1957, Diana married Robert Hill. In the early years of their marriage, Diana worked at Westminster College and Kodak. During their time living in Palmyra, NY, Diana gave birth to Laura Lee(1962) and Emmy Lou(1965). In 1969, Diana and Bob packed up the family and moved to Nassau Bay. It was during this time that they joined Webster Presbyterian Church and formed many lifelong friendships. Diana and Bob welcomed their third daughter, Judith (Judy) Lynn in 1972. The Hills left Nassau Bay and moved to Midland, Texas in 1974. While living in Midland, Diana worked as a realtor for Mary Ann Carr Realty. During her tenure at Mary Ann Carr Realty, Diana earned her Broker's license and had many successful closings. Diana and Bob settled back in Nassau Bay the summer of 1977, just two blocks from their first home in Nassau Bay. Diana's hobbies included sewing, quilting and knitting. And she often gifted her completed afghans or quilt projects to celebrate special occasions or just as a way of saying thank you. Diana also enjoyed visiting quilt shops and attending the annual Houston quilt festival, an opportunity to collect anything quilting or sewing related.
She is preceded in death by her parents, Clyde Morgan and Ruth Morgan; brothers: Conrad Morgan, Robert Morgan, and Dale Morgan.
Diana leaves behind her devoted husband of 65 years, Robert Hill; daughters: Laura Lee Moffett, Emmy Burnett, husband Carl, and Judith "Judy" Pomier, husband James; grandchildren: Andrew Pomier, Ryan Pomier, Jordan Pomier, Bridget Dzurka, husband John, and Patrick Moffett, wife Sarah; great grandchild, Madison Moffett; sisters: Joan Davison, and Laura Lee Morgan; brother, Dennis Morgan.
A celebration of Diana's life will be held at Webster Presbyterian Church on Saturday, January 21, 2023, at 11am. In lieu of flowers, the family requests that memorial donations be made to, Webster Presbyterian Church Music Ministry.