Dewey Edward "Butch" Ray Jr.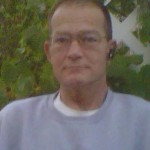 Dewey Edward "Butch" Ray Jr., 56, passed away on March 11, 2014 with his family at his side in Webster, TX. He was born on December 14, 1957 in Odessa, TX to Dewey and Betty Ray. Dewey "Butch" is survived by his loving wife of 7 years, Brenda Baker-Ray; daughters, Ashley Ray, Angela Lehew, Jessica Lehew, Amanda Lehew, and his niece Tracy Ray; sons, Randy Ray, Brent Ray, Aaron Ray; sisters, Jodie Ray Comerford; grandchildren, 6 with another expected; and numerous family members and friends.
Dewey "Butch" was a retired safety manager. He had a passion for his family and friends and was an avid hunter and gun enthusiast.
Memorial Service will be held on Saturday, March 15, 2014 at 10:00 AM at Crowder Funeral Home, Webster, TX.