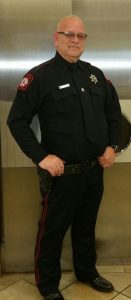 Dennis Patrick Murphy, 67, a resident of League City TX, passed away November 9, 2022, in Webster, TX. Dennis was born in Wellsville, NY, on February 3, 1955. He served his country in the U.S. Marine Corps during the Vietnam era.
Dennis lived in Beaufort, SC for several years then moved to Texas in 1982. Dennis attended Alvin Community College where he received his Basic Peace Officer Certification in November, 1993. He began his career with Galveston County Constable Precinct 8 in 2001. Over his 20+ years in law enforcement, he received numerous Commendations to include being recognized by Governor Rick Perry for "heroic actions in the roadside delivery of a baby girl." He achieved Master Peace Officer certification in February, 2016, and holds a TCLEOSE Instructor Proficiency Certificate from the State of Texas. Hometown Bank of League City was his home in the afternoons from 4-6pm where he performed Security for over 18 years. His training, expertise, and diligence enabled him to perform his duties, which included civil process, court security, and patrol duties. He also provided support to our local school districts and provided lifesaving intervention when needed. Dennis retired from Galveston County in February, 2022.
Dennis never met a stranger. He was loved by everyone he met. Whenever he could help out, you could count on him. Being outdoors, fishing with his wife and driving down a county road would bring a smile to his face. His six grandchildren were always on his radar. Pets, Liberty and Tex, were some of his highest priorities.
Dennis is preceded in death by his parents, Daniel and Dolores Murphy, and brother, John Murphy.
Dennis leaves behind his wife of 28 years, Nancy Murphy; sons: Dennis Patrick Murphy II, wife, Elizabetha; and Aaron Jay Murphy, wife, Sydnee; six grandchildren, Dennis Patrick III, Dillon Patrick, Sean Patrick, Leyah Ann, Alex Jay and Katie Lynn; sisters Julie Rickicki, Jean Frank, Tina Miller, Lisa Stissor; and brother, Daniel Joseph Murphy III. He also left behind many nieces, nephews and cousins.
A Celebration of Life will be held in the League City area in February, 2023, on Dennis' birthday. A date and location will be announced as the time draws near. A second Celebration of Life will be held in July, 2023, in Wellsville, NY, when his ashes will be taken home. Arrangements will be announced as the time draws near.
In lieu of flowers, please make memorial contributions in Deputy Murphy's name to the Texas Municipal Police Association.