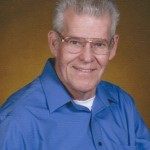 Dennis Albert Emiliani, 75, native of Galveston, passed from this life on Saturday, March 8, 2014 at his home in Santa Fe after a lengthy illness. He is survived by his family: loving wife of 50 years, Shirley Strain Emiliani; son Kirk Emiliani, daughter-in-law Lisa Velasquez Emiliani, daughter Cheryl Emiliani Kimbrough and son-in-law Steve Kimbrough, and grandchildren Kyle, Lauren, Megan, and Marisa Emiliani.
Dennis Emiliani retired from the National Marine Fisheries Service Galveston Laboratory after 41 years of service. During his tenure there he worked aboard the Gus III and NOAA research ship Oregon II. He was proud to mentor young interns from Texas A&M Galveston and other universities, many of whom remained cherished friends and colleagues over the years.
Mr. Emiliani was a veteran of the U.S. Army and a member of Aldersgate United Methodist Church in Santa Fe. He was a coach for Hitchcock Red Raiders Youth Football and Santa Fe Little League Baseball, and he volunteered with the Santa Fe Community Theatre. An avid naturalist, he enjoyed fishing and birding in and around Galveston, and gardening at his home in Santa Fe. He will be greatly missed by his faithful canine friend Ellie.
He was preceded in death by his beloved mother Alberta Driggers Emiliani, brother Bryant Emiliani, Sr., sisters Alieen Johnson and Lorraine Lambert, and nephew Mark Lambert.
Visitation will be at Aldersgate United Methodist Church in Santa Fe on Tuesday, March 11, 2014, from 6:00pm to 8:00pm.
A service in celebration of his life will be held at Aldersgate United Methodist Church, 13217 FM 1764 in Santa Fe, on Wednesday, March 12 at 10:00am.
In lieu of flowers, his family requests donations in his honor to the Alzheimer's Association at 2242 W. Holcomb Boulevard, Houston, TX 77030; or to the American Cancer Society at P.O. Box 22718 Oklahoma City, OK 73123-171; or via main.acsevents.org/goto/we-remember-dennis.