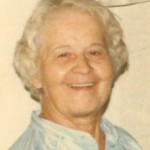 Delilah May Taylor, 98 of Texas City passed away May 29, 2014 at her residence.
She was born October 21, 1915 in Alma, Wisconsin to Oscar and Chloe Falkenstein.
Delilah was in the US Army serving during WWII. She was of the Baptist Faith, she lived most of her life in Texas City, and her hobbies were her CB radio, dog breeding and watching Wrestling.
She is preceded in death by her parents, husband Leroy Taylor, son Eddie Taylor, sister Violet Nelson, brother-in-law Charles Taylor and sister-in-law Virginia Taylor.
She is survived by her extended family Sandra Walker, Sally Casteel, Amber Rose Taylor, Jeremy Walker, Jacob Walker, Matthew Walker, Steven Taylor, Sharon Glass and Sara Salazar and numerous other loved ones.
A graveside service will be at 2:00pm on Friday, June 6, 2014 at Grace Memorial Park in Hitchcock, Texas.