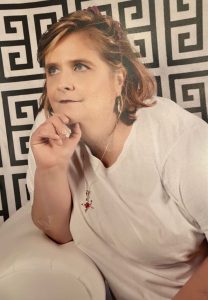 Debra Lee Holt 
June 19,1967 – March 31, 2022
Debra went to be with the Lord on March 31, 2022 at the young age of 54. She was born in Houston, TX on June 19, 1967. Debra was a lifelong resident of Pearland/Houston area.
She attended and graduated from Pearland High School in 1985 then attended Texas A&M University for two years and completed her Bachelor's degree in Nursing at the University of Kentucky. She was a member and clerk at Faith Spring's Baptist Church of Pearland for five years. Prior to that a long-time member of Park Place Baptist Church.
She had a passion for sharing Jesus Christ with others. Debra served as a missionary in Eagle Pass, Texas in 1989. She truly believed in the power of prayer and scripture. She loved all and touched all she met without conviction or judgment.
Debra loved reading books, writing and telling stories with a great sense of humor. She was in the process of publishing her first book. She enjoyed traveling, cruising, relaxing on the beach, oh and shopping also.
Debra loved her family dearly and her cat Roscoe. She held a very special place in her heart for her Mother and Father.
Although she loved these things greatly….. Nothing surpasses the love she had for Her Lord and Savior Jesus Christ.
She is survived by her parents: Richard George Holt, Sr. and Nancy Lee Holt; brothers: Richard Holt, Jr. and Edward Holt; niece: Holly Holt; nephew: Richard Holt III (Ricky); sister in law: Candy Holt (Edward's wife); aunt: Emily Siebeneicher; cousins: Kim Shtola and Karl Siebeneicher.
She will be missed very much, until we meet again in Heaven.
There will be a visitation on Friday, April 8, 2022, from 5:00 p.m. to 8:00 p.m. at Crowder Funeral Home in Pearland. Funeral service will begin Saturday, April 9, 2022, at 10:00 a.m. in the chapel at Crowder Funeral Home. Burial to follow at Forest Park Lawndale in Houston, TX.
The family wishes to thank all for their prayers and support during this time.